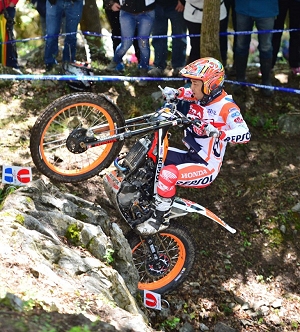 Toni Bou widened his advantage at the top of the FIM Trial World Championship table to twenty-two points over Adam Raga after a decisive win on the opening day of the French GP. The Repsol Honda Team champion set the bar high on the first lap of the trial with a commanding ride and rubber-stamped the victory on the second lap with a notable scorecard. The trial was far from an easy one with yesterday evening's and this afternoon's rain hampering rider progress. Mud was the order of the day for all the competitors. As a consequence race authorities finally deemed it correct to stop the trial at section five of the third lap.
Earlier an accident involving one of the minders saw the event temporarily held up whilst the emergency services were brought in. Due to the difficulties of the course, the FIM race director decided to cut short the trial with the scores at section five of the final lap being used.
Among the riders, Takahisa Fujinami, had moved up into a potential podium position on the first lap and tenaciously held on, posting a final runner-up spot. Team Repsol's Japanese rider went from zero to hero taking the place between Bou and the champ's nearest adversary in the championship fight. This is the first time this season that Fujinami finishes in second place; the last time was back in Japan in 2015. Fujinami now sits ten points clear of fourth place rider and teammate Jaime Busto, in the general rankings.
In fact, Jaime Busto couldn't get into the race today and ending up picking up his poorest result of the season so far with an eighth place finish. In spite of the result, the young Basque rider hangs on to his overall position and will be hungry to improve on it on day two.
Sunday, sees the second and final day of the French Trial GP which will once again feature twelve sections to be done over three laps although modifications to at least three of the sections are expected.
| | |
| --- | --- |
| | It has been a very positive day. Things went well on the day and on the bike. The team has been working really hard this week and the incredible desire has rubbed off. Today it was very easy to make mistakes and other riders were getting into the fight for the victory, but in the end, it turned out fine. They should all be congratulated too. |
| | I'm really happy. I think that the FIM made a good decision with the accident of Gelabert's minder. I hope that he hasn't got too badly hurt. The first lap I did with a few faults, but I hung in there. The second one went better, picking up faults in the hardest sections but the fifteen marks are really good and third one went well, so I'm pleased about that. We really prepared the bike well and the Montesa Cota 4RT has run really well here just like it did in Andorra. I have to thank the team for all the work. Let's try and keep going like this. |
| | Today it went really badly for me. It has been a disaster. I've got nothing else to add. I know that with the rain and mud I'm not used to doing good trials. From the word go I didn't feel comfortable. I picked up some really stupid fives – nothing came out right. I just didn't get into the race. Maybe I wasn't able to focus properly which is what you need to compete here. I don't know. I will have a think about what went wrong today. |