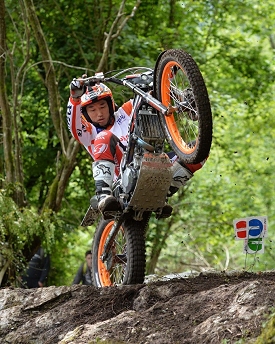 Takahisa Fujinami returned to the top of the podium two years after with an overwhelming triumph, as teammate Bou had done on day one. The reigning world champion takes a heavy fall, but comes back to snatch a spot on the rostrum.
Toni Bou's brother-in-arms at the Repsol Honda Team, Takahisa Fujinami put an end to his teammate's spell of six consecutive wins in the Outdoor Trial World Championship. Fujinami, the oldest veteran in the field, was too hot to handle from the start astride the Montesa Cota 4RT. With two sharp first laps, the Japanese rider finished the job with just a single penalty point on the final lap. That raises Takahisa Fujinami's victory tally to thirty-three wins in the FIM Trial World Championship. He also becomes the fourth different rider to take victory so far this season. The result consolidates the third position overall of 'Fujigas' on the leader board.
The trial in Lourdes was one of the toughest so far this season, even with the overnight modifications to the route. Race authorities marked out three new sections, but overnight rain filled the areas with mud once more, making balancing something of an ordeal for the competitors.
Toni Bou, nevertheless, comes away from the French trial with a hefty margin of twenty points in the general standings, ahead of nearest second place rival Adam Raga, who finished runner-up on the day. Bou didn't get off to much of a start today and was further hindered by a heavy fall in section nine with the bike taking a hard knock. The Repsol Honda Team ace failed to regain momentum, but clawed his way back into the top places, posting a third spot at the end of the day.
Jaime Busto, once again, was a hair's breadth away from a spot on the rostrum. After looking poised throughout to make it onto the podium, an error-filled final lap saw him equal Bou's score, who took the third place thanks to the greatest number of zeros achieved in the championship. Busto had to settle for fourth place.
The next outing for the Repsol Honda Team in the FIM Trial World Championship will be in Comblain-au-Pont, Belgium in a one-day competition – the only one-dayer this season – which will take place on Sunday, July 10. Prior to that Toni Bou and Jaime Busto will participate in the third trial whose points count towards the Spanish Trial Championship. This will be held in Pobladura de las Regueras, León.
| | |
| --- | --- |
| | Today we didn't get off to a good start with a five right at the start. It was a trial with few marks and that complicated the day. Even more so when I hit the bike hard in a fall and it didn't go on in the same way. I battled on with the discomforts until the end, but I was clawing my way back and in the end I was able to salvage something out of it. I said it yesterday: in these trials anything can happen. Today, I could easily have lost 10 points, but instead I lost only two. We are now 20 points ahead in the championship, but we have to keep working on it. |
| | I'm dreaming! I don't know how I have done it! Near the start I saw that Tony had picked up a five and that I was up ahead with Adam. Towards the end the zones were starting to dry out and I thought that everyone would do much better. I knew nothing about the marks of the rest. In section four with Toni, we took a different route and we were the only two to get a zero out of it. It has been a great team effort. I knew that things were going well, but not that I'd be 15 points ahead of the second place rider! I wasn't going after the victory and I didn't expect it. I just wanted to fight to try and get on the podium, but today I was very focused and it was like back in the 2004 season. This victory is a gift for me and is great for the motivation that it will give me. I should thank the team and the sponsors, Montesa-Honda and HRC for having believed in me and supporting me. I'm really, really happy. |
| | Today went somewhat better than yesterday, above all, on the first two laps, which I think that I did very well. I didn't know how it was going. I found out after that I had been on for a podium place. But, of course, not everything could go well… and in the end, on the last lap, I made too many really absurd mistakes. The hazards were slippery, but I don't think that I should have made so many faults. I think that I was really close to getting on the podium. Next time it will be my turn, right? |