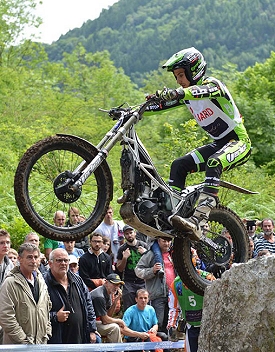 Just a week after the previous encounter in Andorra, the 2016 FIM Trial World Championship remained in the Pyrenees for the fifth round of the series held in the French spiritual town of Lourdes. The factory Vertigo pairing of Jeroni Fajardo and James Dabill were again in action and featured in and amongst the upper order on both days of competition. Fajardo went 6 - 6 whilst Dabill placed fifth and then eighth over the weekend for another set of solid results for the Vertigo duo. Changeable weather meant all riders endured a tough couple of days in the French hills.

Continued and heavy rain in the region always meant that conditions out on the hillside course were going to be tough as the riders faced three laps of twelve sections during Saturday's competition. The hazards were split into two main groups, with the majority situated in a wooded area lower down the hill and the sections six, seven and eight being located high above the town. The course linking these two groups proved difficult to pass and ultimately brought Saturday's Trial to an early close as the event was stopped to allow an injured assistant to be airlifted to hospital. He was later released with no serious injuries.

Picking up from his podium finish in Andorra, Fajardo started strongly on Saturday and ended the opening lap in second place just two marks behind eventual winner and championship leader, Toni Bou. Dabill also showed himself to have adapted well to the wet and muddy going on board his fuel injected Combat as he occupied an early position close to the top five. Unfortunately, a heavy crash in between sections midway through the second lap was to leave Jeroni battered and bruised, which in turn caused his tally to rise sharply and saw him have to be content with sixth spot on day one. In contrast James produced two improved scores over the final lap and a half to claim fifth spot after cruelly missing out on fourth position as he was beaten by a single clean in the tie-decider by Jorge Casales.

Sunday brought much warmer and drier weather and a revised and shorter course with three new hazards replacing the difficult to reach higher sections. Stiff and sore after his crash on Saturday, Fajardo knew that day two was always going to be a damage limitation exercise and could be satisfied with two strong closing laps after he made a slow start to Sunday's Trial. Finally, sixth place for Jeroni was just reward for his brave efforts. Dabill day followed a similar story as he also improved his performance over the latter stages to secure eighth spot come the finish. Jeroni and James remains sixth and seventh in the general standings respectively, whilst Vertigo maintain second spot in the manufacturers' championship.

Reflecting on the French GP Fajardo said. "The crash on Saturday changed everything, as up to that point I was feeling confident and was looking to continue the same kind of result I achieved in Andorra. I really hit my head hard when I crashed and it left my neck very stiff and sore. Despite this bad luck I can at least be satisfied with my results in these circumstances. Now I will take some days to recover before the next round."

Dabill summed up his weekend by saying. 'It's been a really mixed couple of the days with the weather, and to have lost out on tie-breaks on both days pretty much shows that we haven't had too much luck this weekend. Fifth on Saturday was OK, but fourth would have been better and without a couple of mistakes on Sunday again I could have been much closer to the top four. The break before Belgium will give us a chance to regroup and go again for the rest of the season.'

After an intense period of events the 2016 FIM Trial World Championship now takes a short pause before resuming in Belgium for the only single day event in this year's calendar on 10th July.