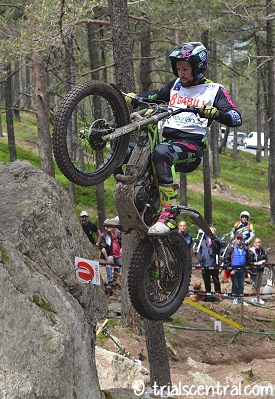 This weekend saw a large step forward as preparations for the UK round of the 2016 FIM Trial World Championship continue at pace. Jordi Pascuet, FIM section advisor came to inspect the venue ahead of the weekend of World Trials which is now just three weeks away.

Jordi was very impressed with the work that Graham Jarvis, Sandy Mack, Dave Hoare and his team have done over the last 8 months in getting the venue ready for the Wulfsport and Oset supported event. Jordi said he had been led to believe that all the sections would be man-made, but was pleasantly surprised to find seven of the twelve sections which will be used were natural sections with only small enhancements of some added rocks. These will be complimented with five manufactured sections featuring big steps to challenge the world's best riders.

Jordi only requested a few minor changes to some of the sections, mainly with regard to the length of them and this will be implemented in the next week.
With 100 riders expected including the first ever visit of the Women's World Championship to UK shores, it's going to be a bonanza weekend of trials. Tickets and further information are available on the event website at www.worldtrialuk.co.uk