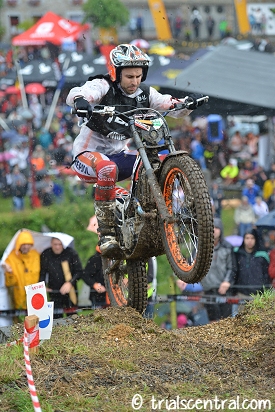 Toni Bou came out on top last time the series visited Belgium in 2014Round six of the eight round 2016 FIM Trial World Championship will be hosted in Belgium this coming Sunday and will be the only single day event of this year's series as the season heads towards its conclusion with the action taking place at Comblain-au-Pont, near Liege.
Surprisingly Belgium has only hosted a round of the series three times since 2001 despite an amazing Trial history, and being one of the prime moving countries behind the FIM Trial World Championship. Belgium was heavily involved in the pioneering Henry Groutars Challenge International series which ran from 1964 to 1967 and then the European Championship that developed from the Groutars and ran from 1968 to 1974.
The country was then in on the ground floor of the FIM Trial World Championship and Britain's Malcolm Rathmell won that inaugural Trial in 1975, which was the second ever in the series after Ireland's historic opener. The scene of Rathmell's triumph was Bilstain, near the town of Verviers, and over the next twenty-four years the Trial park venue achieved legendary status in the Trial community.
Three times FIM Trial World Champion Eddy Lejeune is by far and away the country's greatest Trial exponent by a long way and the bespectacled Honda factory rider, mounted on the Japanese giant's awesome, 360cc four-stroke RTL machines, hand built in the HRC racing department, was absolutely unbeatable at the venue. Bilstain was situated just minutes from the Lejeune family home and throughout the nineteen eighties massive crowds turned out to support their local hero, most of them clustered round the infamous 'Bilstain Step' at which Eddy was the absolute master.
Eddy, the younger brother of Jean Marie and elder brother of Eric, both FIM Trial World Championship contenders, was victorious at Bilstain on seven consecutive occasions from 1980 to 1986. His incredible run was eventually brought to an end in 1987 by young Spanish star Jordi Tarres on the factory Beta who was on his way to the first of his seven World crowns. From 1975 to 2001 Belgium missed only two years in the FIM Trial World Championship calendar, the years being 1989 and 1998, an incredible feat.
The last time Belgium hosted a round was in 2014, also at Comblain-au-Pont, and the winner was Toni Bou – Repsol Honda who took victory from fellow Catalans Adam Raga - Gas Gas and Albert Cabestany -Sherco. All three contenders, Raga now TRS mounted, will be back to try their luck at the venue this weekend.