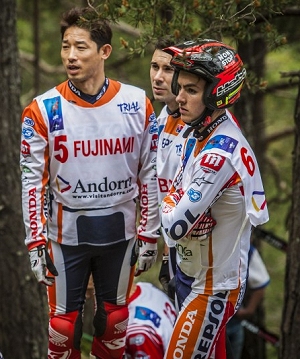 The FIM Trial World Championship is back in action this weekend with the Belgian GP, the only single-day event to feature in the trial calendar this year. Toni Bou, Takahisa Fujinami and Jaime Busto all go into the event with high expectations.
The outdoor trial season – which entered its second half with the most recent GP in France – moves on to Comblain-au-Pont, Belgium, as trial's top category get just one day to tackle the course. The date could prove to be a short, yet significant one for Repsol Honda Team with competitors readying themselves for the final assault and vying for positions as the season draws on.
Toni Bou continues to lead the overall rankings with a total of 189 points and a margin of twenty over the nearest rival. In terms of points, this is the equivalent of an entire trial. The Repsol Honda Team rider remains as win-hungry as ever and will look to increase the cushion at the head of the leader board as the championship heads into its final stretch.
Takahisa Fujinami, winner in the Lourdes trial three weeks ago, won't need much convincing about his chances of snatching another victory. The Japanese evergreen is chasing a spot on final podium. With five races still to run, he holds a seventeen-point advantage over fourth place Jaime Busto. Repsol Honda Team's young Basque rider still has his eyes on the prize: that still elusive podium finish. After finishing various recent trials in fourth place and narrowly missing the objective; one senses that the highly-motivated Busto might just sneak a result this time. It is only his second year in the top flight.
Toni Bou will be the final rider to take the start-line at the Belgian GP. He will depart at 11:00 Sunday morning. The course is fifteen kilometres long and includes twelve sections to be completed over three laps.
| | |
| --- | --- |
| | It may look like I've got a big advantage in the championship but you can't take anything for granted. Besides, you have to take it really carefully in every trial, because the slightest mistake can ruin a whole year's work. So, the Belgian GP will be an important one to try and keep up the line of positive results. We will go on fighting race by race to get to the final goal which is the championship title. |
| | Winning the most recent GP has given me even more motivation and strength to keep on training hard and keep on improving day by day. The team and I are having a great moment and our aim is to keep pushing to get as many points as possible. |
| | I said it a few weeks ago in France: It is our turn to get onto the podium. I've nearly made it now on numerous occasions but I've come away unsatisfied for one reason or another. I hope to be able to celebrate a great result come Sunday and make the team happy. |