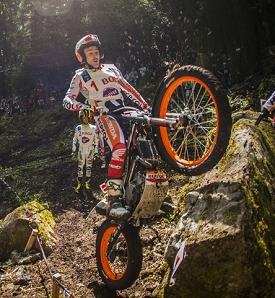 Toni Bou looks poised to make off with the world outdoor trial championship for the tenth time after another notable performance. The Repsol Honda Team rider went from zero to hero in the Belgium Grand Prix, displaying all the hallmarks of a champion. Teammates Takahisa Fujinami and Jaime Busto's performances were the inverse of Bou's; both missing out on the podium.

It was the tiny population of Belgium's Comblain-au-Pont who hosted the sixth Grand Prix of the trial calendar – the eleventh of a total of fifteen trials given that the Belgium event featured only a single date. Toni Bou scooped his eight win of the season in a trial a world away from the rain-soaked one disputed here two years ago. The lengthy course did, however, feature some very technical sections which forced some riders to make mistakes.
Toni Bou picked things up after a poor start. A fall on the first lap and a sudden, sharp movement caused problems for the rider who is still carrying a shoulder injury. Battling against the pain, the Spaniard was holding fourth spot overall by the end of the first lap. On subsequent laps Bou scored better than rivals, going on to take victory with ten points over runner up Adam Raga. The result bolsters Bou's command of the general standings with his advantage over nearest second-place adversary Adam Raga increasing to twenty-three points.
Takahisa Fujinami, arrived at the Comblain-au-Pont event fired up after his win in the previous round in Lourdes (France). The Japanese Repsol Honda Team rider has had his eye on the overall third position. 'Fujigas' got off to good start, looking set for a podium finish, until a spectacular fall on the third lap forced the ex-champ to ride out the rest of the trial in defensive mode. After clocking up further marks, Fuji had to settle for a final fifth place but is still third in the overall ranking.
Repsol Honda Team's third rider Jaime Busto continued to battle to get into the podium zone. However, after completing the first two laps with an identical scorecard, the young Basque hopeful made several mistakes to wipe out any chances of a first podium.
The FIM Trial World Championship continues next weekend with the Great British Grand Prix to be held in Tong.
| | |
| --- | --- |
| | I was able to settle the race in my favour at the end of the second lap, but the riding wasn't up to much as I wasn't feeling too good on the first lap. I had injured my shoulder during training and in spite of not feeling right I was able to make it through. I'm very pleased with the result but I will have to work hard to get the shoulder in shape for the trial in England next week. |
| | I'm not pleased with the fifth place. I was among the top positions on the first part of the race. There was a misunderstanding with the time that I was given and I missed out on the podium by very little. I was feeling good on the bike and things were going well, but I'm not pleased with the way it all worked out. I continue to hold on to third place in the overall standings and with four trials still to go, I think I'm doing well and am on the right path. |
| | In the sections with the mud that had formed, I wasn't feeling very comfortable. Those are not my favourite type of sections, that's for sure. I was riding a bit clumsily at the beginning and only picked up one zero on the first lap in the final section. On the second lap I felt better on the bike but it wasn't enough. As the trial went on the sections didn't get any better. |