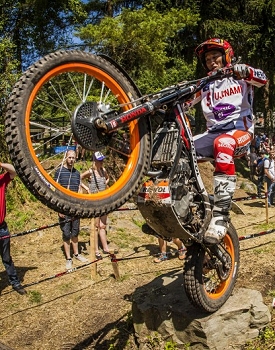 Toni Bou, Takahisa Fujinami and Jaime Busto, the Repsol Honda Team factory trio, this weekend face a crunch test in the British Isles. A result in the seventh grand prix of the series could help to expedite a tenth championship outdoor title for Bou.
Toni Bou of Repsol Honda Team, the overall leader in the championship table heads into a crucial GP in Great Britain firmly intent on holding the opposition at bay. The champ has grabbed top honours in eight to the eleven events disputed to date and is fending off adversaries with a 23-point advantage at the head of the leader board.
Japanese Repsol Honda Team companion Takahisa Fujinami – lying in third spot in the championship – will also be looking to consolidate his position. With four days of trials still to go, his advantage over fourth-placed apprentice Jaime Busto is 18 points and 20 points over the fifth-placed rival. A podium finish for Fujigas in the UK, where the rider usually scores well, would virtually rubber-stamp a bronze medal this season.
The rostrum is the clear goal of Jaime Busto too. The teenage Basque from the Repsol Honda Team has had a series of near misses with the podium both this season and last. He will be hoping to be celebrating alongside his teammates on the podium come Sunday evening. Busto, in spite of a weak result in Belgium, hangs on to overall fourth spot in the championship.
The British Grand Prix, making its maiden appearance at the location, is one of the shortest in the calendar at 4.5 kilometres. It will feature twelve hazards to be completed over three laps. Toni Bou heads out last at 11:00 hrs, local time.
This is the first time that the Trial World Championship has been held in Tong. The twelve sections of the course have been designed by former rider Graham Jarvis. The trial takes place in the Parkwood Off Road Centre in the tiny location in Yorkshire. Toni Bou has come away victorious in the four most recent British GPs in the world championship – the eight trials disputed in Nord Vue, England.
| | |
| --- | --- |
| | In Belgium I suffered a lot physically. I got there already injured, then during the trial I fell and further punished my shoulder. I hope to have recuperated by the time the British GP starts. The most recent trials have been very close – I've got good results – but the championship is still to be decided; you could finish sixth any day. We can't take anything for granted yet with four trials still to go this season and we will have to keep banging away at it and try and get onto the podium. |
| | This trial is in a new place where none of us have competed before. I hope to be able to continue with the good results that I usually get in Great Britain; I feel very comfortable in these events. I think that I have a good advantage in the championship and I would like to consolidate my third place in the overall standings with a good result here. I'm very motivated for this one. |
| | After the bad result in Belgium, I only hope that the trial in England goes better. If there is something positive, it is the fact that the conditions will be the same for all the riders at the new location. My aim is the same that it has been all season – to get onto the podium. I hope it comes soon and if it arrives in this trial, all the better. |