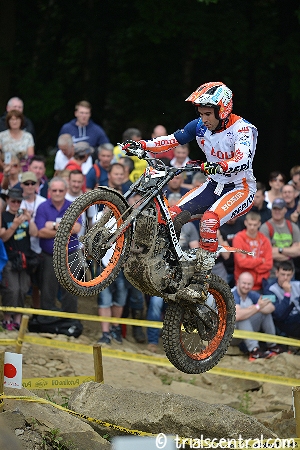 With a winning margin of thirty-one marks, the performance by Toni Bou – Repsol Honda on the opening day of the British Grand Prix that marked round seven of the 2016 FIM Trial World Championship was simply sublime. Now almost certain of a straight tenth outdoor title, Bou made light work of the mainly man-made course at Tong losing just four marks over the entire Trial including a clean last lap.
Whilst overshadowed by Bou's incredible display, British rider, James Dabill – Vertigo was still delighted as he took a career best second spot in front of his many home fans. A further seven marks back Adam Raga – TRS could only manage third position today and saw any last chance of him stopping Bou taking the title all but disappear as Toni now moves twenty points clear in the general standings with just three counting days remaining.
On a day when the sun finally shone following the rain showers of the previous days, the greasy conditions dried as the competition wore on. Albert Cabestany – Sherco ended up a distant fourth as he beat fifth place Takahisa Fujinami – Repsol Honda by just two marks. Still recovering from the injuries he sustained in France, Jeroni Fajardo – Vertigo battled to take sixth spot, leaving Jaime Busto – Repsol Honda, Franz Kadlec – Gas Gas and Eddie Karlsson – Montesa to occupy seventh, eighth and ninth places respectively. Spain's Oriol Noguera – Montesa rounded out today's top ten in the TrialGP class as he equalled his best ever finish.
Bou's win today marked the occasion of the two hundredth GP win for Montesa as they secured the manufacturers' title for an incredible nineteenth time. Toni said. "This is an amazing moment for both me and the team. To be able to take such a great victory and to produce my best riding and in doing so take the win, number two hundred for Montesa and on day when we won the manufacturer's title too feels so good."
Jack Price – Gas Gas clinched the Trial2 title on home soil as he secured his seventh win of the campaign with yet another dominant performance. Price ended the day on a mere six marks and can now not be caught in the overall standings with the winner of the 2016 FIM Trial2 World Cup being determined after each rider drops their worst two results. Jack's closest challenger, Iwan Roberts – Beta was second on the day and remains second in the series and as such lost the chance to prevent his compatriot snatching the Trial2 crown. Gael Chatagno – Sherco made a welcome return to the podium in third after his poor showing in Belgium. The British duo of Dan Peace – Gas Gas and Jack Spencer – Beta finished day one in fourth and fifth spots respectively.
Fresh from clinching the title last Sunday in Belgium, Great Britain's Jack Peace – Gas Gas continued his winning ways in the Trial125 class as he notched up victory number nine of the year to further confirm his dominance of the class this season. As has often been the case in 2016, Max Faude – Beta was again the runner-up to also cement himself as runner-up in the series too. Home rider, Billy Green – Beta made a sensational debut as he claimed third spot and a place on the rostrum at his first competition at this level.
Day two of the British Trial GP will play out tomorrow over a similar course, although some overnight revision to certain sections are expected depending on the weather.
Results



TrialGP Results

1. Toni Bou - 4

2. James Dabill - 35

3. Adam Raga - 42

4. Albert Cabestany - 59

5. Takahisa Fujinami - 61

6. Jeroni Fajardo - 63

7. Jaime Busto - 81

8. Franz Kadlec - 82

9. Eddie Karlsson - 88

10. Oriol Noguera - 92

11. Jorge Casales - 98

12. Matteo Grattarola - 99

13. Miquel Gelabert - 104

14. Alexandre Ferrer - 109

15. Loris Gubian - 111

16. Hakon Pedersen - 164

pdf Download Full Results (132 KB)

Trial2 Results

1. Jack Price - 6

2. Iwan Roberts - 15

3. Gael Chatagno - 19

4. Dan Peace - 20

5. Jack Spencer - 21

6. Luca Petrella - 24

7. Ib Andersen - 24

8. Arnau Farre - 26

9. Luke Walker - 26

10. Marc Riba - 27

Trial125 Results

1. Jack Peace - 5

2. Max Faude - 12

3. Billy Green - 16

4. Keiran Child - 19

5. Joe Dawson - 28

6. Eric Miquel - 33

7. Thomas Culliford - 38

8. Christopher Wengler - 49

9. Connor Hogan - 50

10. Oliver Smith - 51

11. Mikkel Bradde - 54

12. Paul Mehu - 60

13. Josh Hanlon - 62

14. Toby Churchill - 77

15. Keiran Tovey - 79

16. Gus Oblien - 103

17. Jake Eley - 127

18. Ronnie Day - 130

pdf Download Full Results (130 KB)
Photo Coverage
Trials Central Supporters
For our Trials Central Supporters, a jumbo gallery of over 200 images from the first day of competition in the UK covering both the Women's and Men's Championships. Images are hi-res and unwatermarked and can be accessed by clicking here
Free Public Gallery