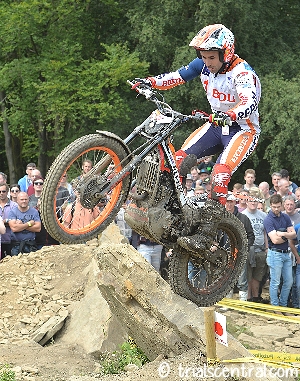 In a much higher scoring event than yesterday, Toni Bou – Repsol Honda still reigned supreme as he notched his tenth victory of the 2016 FIM Trial World Championship to move yet another step closer to taking a record extending and historic tenth successive outdoor title. With the sun shining overhead Bou again ran out an easy winner on the second day of the British Trial GP held at Tong, with his winning advantage being twenty marks over Adam Raga – TRS.
Despite Raga's best efforts he was unable to keep in contact with Bou as the Trial wore on and finally finished fourteen marks in front of third place Albert Cabestany – Sherco. Cabestany can count himself slightly fortunate as he edged Jeroni Fajardo – Vertigo off the podium by a single mark. With Fajardo in fourth, Takahisa Fujinami – Repsol Honda again could only managed fifth spot on what was a disappointing weekend for the veteran campaigner.
Jaime Busto – Respsol Honda was one place higher on day two as he took sixth spot ahead of James Dabill – Vertigo in seventh who was unable to repeat his podium placing from twenty-fours earlier. Eighth, ninth and tenth positions were filled by Eddie Karlsson- Montesa, Miquel Gelabert – Sherco and Franz Kadlec – Gas Gas on day two.
Now with a thirty-one-point lead at the top of the championship standings, Bou has one hand on the title as he explained. "Today again was important for the championship, but today my riding was not at the same level as yesterday. I liked the Trial today as the sections were much harder, but I didn't have a good feeling this morning. Finally I made some good rides on the last lap. Now I am ready to take some holidays and to be ready for the final GP in Italy."
Dan Peace – Gas Gas brought an end to Jack Price's – Gas Gas winning run who only yesterday became the winner of the 2016 FIM Trial2 World Cup. Price had won the last three events en route to taking the title, but had to be content with second place today as Peace recorded his second victory of the campaign. A great last lap gave Dan the win over Jack by three marks as the same margin separated second and third places where Iwan Roberts completed a British 1-2-3 in this class. France's Gael Chatagno – Sherco and Luca Petrella – TRS rounded out todays Trial2 class top five. Roberts now looks favourite to finish second overall in the general standings after Arnau Farre – Gas Gas lost vital ground in the points race as he placed tenth on day two.
Jack Peace – Gas Gas signed off his Trial125 career with his tenth win of the year to further cement his position as winner of the 2016 FIM Trial125 World Cup. Despite an uncharacteristic five on his final lap, Peace still ended the day seven marks clear of surprise runner up and compatriot Billy Green – Beta. After taking third spot on his debut yesterday, fourteen-year-old Green today went one better to announce himself on the World stage in some style. Spain's Eric Miquel – Sherco completed the Trial125 class podium on day two as Max Faude – Beta failed to make the top three for the first time this season. Runner up in the series, Faude, along with Peace will move up to the Trial2 class for the final round of the 2016 series.
After the recent hectic schedule, the 2016 FIM Trial World Championship will now break for its traditional summer recess before Italy host the final event of the current series during the first weekend in September.
Results



TrialGP Results

1. Toni Bou - 20

2. Adam Raga - 40

3. Albert Cabestany - 54

4. Jeroni Fajardo - 55

5. Takahisa Fujinami - 64

6. Jaime Busto - 70

7. James Dabill - 81

8. Eddie Karlsson - 85

9. Miquel Gelabert - 100

10. Franz Kadlec - 105

11. Jorge Casales - 106

12. Alexandre Ferrer - 107

13. Matteo Grattarola - 110

14. Loris Gubian - 117

15. Oriol Noguera - 118

16. Hakon Pedersen - 144

pdf Download Full Results (136 KB)

Download Championship Standings

Trial2 Results

1. Dan Peace - 20

2. Jack Price - 23

3. Iwan Roberts - 26

4. Gael Chatagno - 30

5. Luca Petrella - 37

6. Jack Spencer - 46

7. Teo Colairo - 47

8. Ib Andersen - 49 (23 cleans)

9. Luke Walker - 49 (19 cleans)

10. Arnau Farre - 51

11. Pietro Petrangeli - 52

12. Toby Martyn - 57

13. Gabriel Marcelli - 58

14. Timo Myohanen - 59

15. Marc Riba - 61 (20 cleans)

16. Sondre Haga - 62 (16 cleans)

17. Pierre Sauvage - 64 (18 cleans, 5 x 1)

18. Declan Bullock - 94 (18 cleans, 4 x 1)

19. Thomas Minta - 65

20. Noe Pretalli - 76

21. Filippo Locca - 77

22. Struart McClurg - 79

23. Samiuel Obrado - 84

24. Gabriel Giro - 91

25. Hugo Jervis - 99

26. Maxime Varin - 116

27. Remy Corna - 128

pdf Download Full Results (164 KB)

Trial125 Results

1. Jack Peace - 10

2. Billy Green - 17

3. Eric Miquel - 33 (26 cleans)

4. Max Faude - 33 (25 cleans)

5. Thomas Culliford - 36

6. Keiran Child - 39

7. Connor Hogan - 54

8. Oliver Smith - 60 (20 cleans)

9. Toby Churchill - 60 (12 cleans)

10. Joe Dawson - 62 (17 cleans, 7 x 1)

11. Josh Hanlon - 62 (17 cleans, 6 x 1)

12. Mikkel Brade - 70 (16 cleans)

13. Christopher Wengler - 70 (11 cleans)

14. Paul Mehu - 81

15. Keiran Tovey - 85

16. Gus Oblein - 114

17. Jake Eley - 127

18. Brett Harbud - 139

19. Ronnie Day - 148

pdf Download Full Results (137 KB)

Download Championship Standings
Photo coverage
Trials Central Supporters
Our Trials Central Supporters can access a bumper gallery of over 320 images from the second day at Tong covering both Men's and Womens's Championship, all hi-res and un-watermarked by clicking here
Free Public Gallery