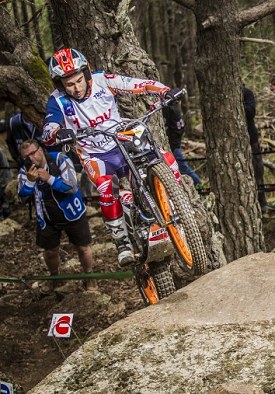 The 2016 FIM Trial World Championship wraps up this weekend in Italy with a crucial date for Toni Bou and the Repsol Honda Team. The Montesa Cota 4RT rider is on the verge of a championship win that will increase his status as the most-garlanded world champion.
Sitting on a 31 point advantage over nearest second place rival, Toni Bou looks set to clinch a tenth Outdoor Trial title this weekend in San Pietro Mussolino, Italy. This will bring the Spaniard's total tally for Indoor and Outdoor to twenty, further consolidation of his now legendary standing as the most decorated champion in motorcycle history.
There is a very high chance that the Repsol Honda Team rider will scoop the title in the first of the two 'match balls' of the Italian GP. A seventh place would be enough to seal the title, although until now the Montesa Cota 4RT ace has never finished in such a low position.
Toni Bou's teammate Takahisa Fujinami also has the chance of achieving a personal goal in the world championship as the Japanese rider battles for a third place overall spot. 'Fujigas' currently holds third place with a 14 point advantage over the nearest contender. Working against him is the injury picked up earlier this summer during the Indoor Trial in France. After undergoing surgery, the Japanese rider has barely had a week to train for the event. Fujigas hopes to be able to make it through what looks likely to be a complicated trial.
Meanwhile, Repsol Honda Team's third member, Basque rider Jaime Busto, holds high hopes of returning to the top positions and still craves that elusive podium spot. Busto lies in fifth place overall in the world championship standings – a one position improvement on last year's final result.
Repsol Honda Team would like to take the opportunity to express their support for the victims of the earthquake in the Lazio region, in particular in the towns of Amatrice and Accumoli.
| | |
| --- | --- |
| | Anyone who thinks that it is already in the bag is mistaken, although with a 31 point advantage we are very well set up to get the title. There hasn't been a single easy trial for me this season in the championship. It has been really tough for the physical condition that I have had to compete in. Just when I thought that I had got over the shoulder injury, it came back. Luckily, I've got a cushion of points and I can ride easier, without any pressure. The Italian trial is the final trial of the year and I will try and do my very best. |
| | I'm very optimistic. I still need a bit of time for my wrist to recover, but I have been training with Toni and Jaime and things are going quite well. After the injury, I felt bad for a few days but I have to thank the Doctors Mir and Terricabras for the great job that they have done. The subsequent rehabilitation was really quick has helped me regain my fitness and I'm ready to face the final trial of the year. I will have to make the maximum effort, put up with as much as possible and hope that everything goes well. |
| | I haven't stopped training over the holidays and have tried to improve and rectify the mistakes that I've made in the trials. The final Grand Prix of 2016 will be a special one as Toni is looking likely to win the title and I hope to be able to celebrate it on the podium with him. This has been my aim all season. |