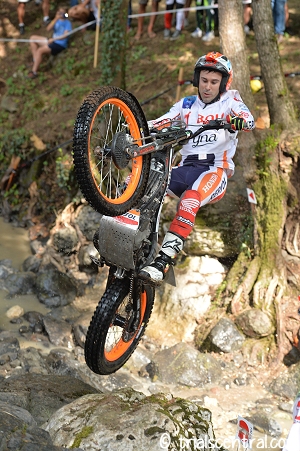 Toni Bou – Repsol Honda stormed to an incredible tenth consecutive FIM Trial World Championship with a crushing victory on day one of the final round of the 2016 season staged at Chiampo in North-East Italy today. The title exactly matches the Barcelona star's ten consecutive FIM X-Trial World Championships to make a grand total of twenty FIM individual World titles.
In a very difficult Trial, staged in temperatures exceeding thirty degrees, Bou dropped just thirteen marks over the twelve section course which was lapped three times. In contrast his only rival for the crown, fellow Catalan Adam Raga – TRS, finished on fifty-six marks while third placed Jeroni Fajardo – Vertigo was another thirty marks in arrears on eighty six.
Bou was the only rider to log single figure lap scores and he did this on all three circuits, his first lap of five including one time penalty followed by laps of two and five in one of the most dominant displays ever witnessed, even by his own incredible standards.
The first two places in the 2016 FIM Trial World Championship are now secured as Raga was already assured of the vice championship, but third place is still up for grabs tomorrow as Albert Cabestany – Sherco, fourth today, now just eleven points behind injured Takahisa Fujinami – Repsol Honda who could only finish sixth on the day. Should Cabestany falter, Fajardo is now just ten points shy of the Sherco rider and could still take fourth in the championship tomorrow.
With Britain's Jack Price - Gas Gas having already taken the title, there was an incredible three way tie with Britain's Dan Peace –Gas Gas, Spain's Arnau Farre – Gas Gas and French rider Gael Chatagno - Sherco all finishing the day on thirty five marks lost, the most cleans tie-break seeing them finish in that order. Iwan Roberts – Beta, currently second in the series, finished fourth, with Luca Petrella – TRS the first Italian rider in sixth place.
With two drop-scores to take into account after tomorrow's final day of competition the final Trial2 podium places are still very much to ride for between Roberts, Farre, Peace and Chatagno.
With Trial125 series winner Jack Peace - Gas Gas having moved up to Trial2, scoring a single championship point in fifteenth place, there was always going to be a new winner and there was an Italian one-two finish as Lorenzo Gandola – Scorpa took a clear victory from Mirko Spreafico – Gas Gas with Spaniard Eric Miquel –Sherco third.
The final round of the 2016 FIM Trial World Championship takes place at the same venue tomorrow.
Results



TrialGP Results

1. Toni Bou - 13

2. Adam Raga - 56

3. Jeroni Fajardo - 86

4. Albert Cabestany - 89

5. Jaime Busto - 91

6. Takahisa Fujinami - 97

7. Jorge Casales - 100

8. Matteo Grattarola - 112

9. Miquel Gelabert - 113

10. James Dabill - 122

11. Benoit Bincaz - 125

12. Alexandre Ferrer - 126

13. Oriol Noguera - 129

14. Franz Kadlec - 147

15. Eddie Karlsson - 148

16. Gianluca Tournour - 151

17. Hakon Pedersen - 161

Trial2 Results

1. Dan Peace - 35 (23 cleans)

2. Arnau Farre - 35 (21 cleans)

3. Gael Chatagno - 35 (18 cleans)

4. Iwan Roberts - 44

5. Luca Petrella - 52

6. Teo Colairo - 54

7. Pietro Fioletti - 68

8. Gabriel Marcelli - 73 (15 cleans)

9. Toby Martyn - 73 (13 cleans)

10. Marc Riba - 74

11. Pietro Petrangeli - 81

12. Pierre Sauvage - 83

13. Kyle Middleton - 86

14. Declan Bullock - 89

15. Jack Peace - 90

Trial125 Results

1, Lorenzo Gandola - 34

2. Mirko Spreafrico - 49

3. Eric Miquel - 58

4. Kieran Touly - 61

5. Connor Hogan - 70

6. Carloalberto Rabino - 78

7. Mikkel Brade - 85

8. Christopher Wengler - 93

9. Julius Ilmberger - 105

10. Gerard Trueba - 133

11. Jake Eley - 159

pdf Download Full Results (122 KB)
Photo Coverage
Trials Central Supporters - Gallery of 190+ hi-res and unwatermarked images can be accessed by clicking here
Free Public Gallery