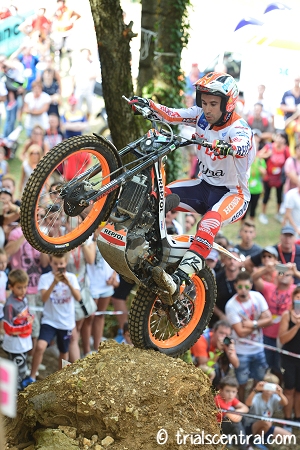 Very much as expected Toni Bou – Repsol Honda signed off from the 2016 FIM Trial World Championship with yet another victory, his second of the weekend at the Italian GP in Chiampo and his twelfth of the campaign. Whilst today his margin of victory was less than yesterday he still won the final day of the season by fourteen marks from Adam Raga – TRS. Raga is one of just three riders who have inflicted defeat on Bou this season, the other two being Albert Cabestany – Sherco and his team mate Takahisa Fujinami – Repsol Honda.
For the second day running and for only the third time this year Jeroni Fajardo – Vertigo rounded out the podium on what has been by far the best weekend of competition for the experienced Spanish rider. Fajardo had to fight hard for his third spot and was pushed all the way on yet another sweltering day by Cabestany who finished just two marks back from his compatriot. Unfortunately, fourth place was not sufficient for Cabestany to climb the order as he ended the year in fourth spot in the final standings.
Despite nursing his injured wrist, Fujnami was magnificent in front of the thousands of passionate Italian fans for who he put on a show of bravery and skill topped by his normal exuberance. Fujinami was rewarded for his efforts with fifth on the day, which was enough for him to hold on to an excellent third spot in the general standings. There was even more for the home crowd to cheer about as Matteo Grattarola – Gas Gas recorded his equal best result of the season in sixth place. Jaime Busto – Repsol Honda, Jorge Casales – Beta, Miquel Gelabert – Sherco and James Dabill – Vertigo were the last four riders respectively to finish in today's top ten.
In terms of the loudest cheer, that was reserved for Luca Petrella – TRS who took his maiden victory in the Trial2 class at his home GP. Petrella ended the day well clear of overall class winner Jack price – Gas Gas who at least made some amends for his terrible showing yesterday. Price's British compatriot Iwan Robert's – Beta complete today's rostrum as he clinched the runners up spot in the series too. Day two's top five was rounded out by Gael Chatagno – Sherco and Dan Peace respectively, the latter of this pairing also securing third in the final standings to finalise an all British 1-2-3 in this class.
Completing back-to-back wins, it was again Lorenzo Gandola – Scorpa who lead home his fellow countryman Mirko Spreafico – Gas Gas for a second Italian 1-2 of the weekend in this class, with Spaniard Eric Miquel –Sherco having to be content with third spot for the second day in a row. Miquel also ended the series in third place behind overall class winner Jack Peace – Gas Gas and Max Faude – Beta, respectively both who rode in Trial2 class this weekend.
With the all individual FIM Trial Word Championships now decided, the attention now shifts to next weekend's team competition, as the FIM Trial des Nations is set to take place in Isola 2000, France.
Results



TrialGP Results

1. Toni Bou - 36

2. Adam Raga - 50

3. Jeroni Fajardo - 55

4. Albert Cabestany - 57

5. Takahisa Fujinami - 67

6. Matteo Grattarola - 81

7. Jaime Busto - 85

8. Jorge Casales - 92

9. Miquel Gelabert - 95

10. James Dabill - 99

11. Franz Kadlec - 105

12. Alexandre Ferrer - 108

13. Oriol Noguera - 125

14. Gianluca Tournour - 127 (8 cleans)

15. Eddie Karlsson - 127 (4 cleans)

pdf Download Full Results (141 KB)

Trial2 Results

1. Luca Petrella - 14

2. Jack Price - 26

3. Iwan Roberts - 28 (26 cleans)

4. Gael Chatagno - 28 (22 cleans)

5. Dan Peace - 31 (22 cleans)

6. Arnau Farre - 31 (21 cleans)

7. Pietro Petrangeli - 36

8. Marc Riba - 43

9. Teo Colairo - 44

10. Toby Martyn - 47

11. Pierre Sauvage - 55

12. Declan Bullock - 59

13. Francesco Xompero - 68

14. Jack Peace - 69

15. Gabriel Marcelli - 71

pdf Download Full Results (172 KB)

Trial125 Results

1. Lorenzo Gandola - 20

2. Mirko Spreafico - 24

3. Eric Miquel - 36

4. Kieran Touly - 44

5. Carloalberto Rabino - 57

6. Mikkel Brade - 59

7. Connor Hogan - 60

8. Christopher Wengler - 83

9. Julius Ilmberger - 96

10. Gerard Trueba - 124

11. Jake Eley - 144

pdf Download Full Results (130 KB)
Photo Coverage
Trials Central Supporters - Circa 200 hi-res and unwatermarked images can be accessed by clicking here
Free Public Gallery