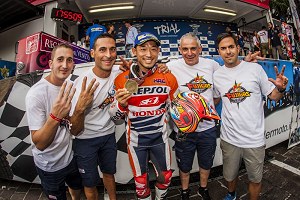 After Saturday's overwhelming triumph, where Toni Bou sealed a tenth outdoor title and a twentieth world championship, on Sunday the Repsol Honda Team was back with a another win. Teammate Takahisa Fujinami took the world championship bronze.
Repsol Honda Team wrapped up the 2016 season with a notable day out on day two of the Italian GP in Chiampo, in the Veneto region. The team can now add a third place final podium finish for Japanese rider Takahisa Fujinami to the championship title secured by Toni Bou yesterday.
Toni Bou brought his Trial World Championship victory tally to 89 and rounded off a magnificent season with a twelfth win. Today, Sunday, saw Bou take the honours with a fourteen point advantage over Adam Raga.
The Italian Grand Prix marked an emotional finish for Takahisa Fujinami. The Japanese Repsol Honda Team rider kept the competition in check and battled against continual wrist injury pains to defend a third place, which never looked in much doubt. A fifth spot on the day was enough to guarantee the bronze medal five years after having last clinched it in 2011 at Isola 2000.
It was a toilsome day for Jaime Busto, who suffered on the first lap with an accumulation of marks for simple errors. The young Basque rider found himself slipping down the leaderboard, before rallying on laps two and three, to post a seventh place on the day. Busto, likewise, repeated the seventh position in the final world championship standings.
The action doesn't finish here for Repsol Honda Team, who are due to take part in an important competition: the Trial des Nations. Two of the trio, Toni Bou and Takahisa Fujinami, will be taking part with their respective nations: Spain and Japan.
| | |
| --- | --- |
| | I'm really excited about this third place which I have been after for a long time. I have had a tough time with injuries since I tore a ligament two years ago and this summer the scaphoid bone. The objective was a third place and I'm pleased to have secured it with this trial. I struggled through it with the pain from the wrist injury, but everyone has supported me: the doctors, physios and the whole team. This third place is important for Montesa, for Honda, HRC and also, of course, Repsol Honda. After so many years, to return to the third place makes me very happy. Next year more! |
| | It was a very complicated day because I wasn't concentrating so much. Near the start I made a mistake that was very hard to overcome. We were getting back into the rhythm, but I scored another fault, but then I improved on the second and third laps. I'm very pleased to add another victory – we have finished off a great season and I want to thank all the team for the work that they have done. I would like to congratulate "Fuji" – it gives us great pride to be in team with him and share this kind of achievement. He is a fighter; he's had injuries but he has overcome them and in the end, he has worked all summer to be able to hang on to the third place here in Italy. Our next aim is to go and enjoy the Trial des Nations which is a special event for us as we are not used to participating as a team. We will be looking for the victory. |
| | It hasn't been a very positive day for me today. On every lap I made mistakes that I shouldn't have. I wasn't feeling very comfortable and things just weren't working right. I did the difficult sections well but I made mistakes in the really easy ones. Yesterday things went pretty well but today I couldn't get it together. Although it didn't finish the way I had wanted to, I'm still happy with the season that I have had. |