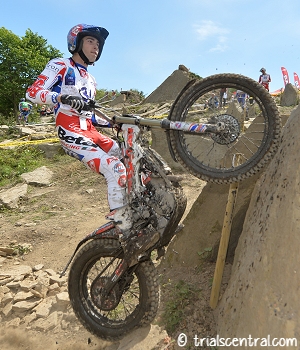 The emerging stars of the Trial2 and Trial125 classes will share centre stage with the superstars of TrialGP at the opening round of the 2017 FIM Trial World Championship at Camprodon in Spain this coming weekend.

With the 2016 FIM Trial2 World Cup winner Jack Price - Gas Gas graduating into the premier TrialGP class there is guaranteed to be a different name at the top and this year, for the first time ever, the winner will be a full FIM World Champion following changes introduced by new series promoter Sport7.

Restricted to 250cc two-strokes, the forty-one registered riders from twelve nations will contest all eight counting rounds and with no scores being dropped this season every performance is crucial.

Runner-up to Price last season, Britain's Iwan Roberts - Beta will renew his battle with Britain's Dan Peace - Gas Gas who finished third. Both riders proved that they had the skills to rise to the occasion and win rounds in 2016 with Roberts' consistency just giving him the edge after a close-fought campaign.

Spain's Arnau Farre - Gas Gas finished fourth last season with two wins to his name but he has also moved up into TrialGP which leaves France's Gael Chatagno - Gas Gas and Italian Luca Petrella - TRS as the only other round winners from 2016 who remain in the class.

Trial2 also features a fresh injection of talent in the shape of riders who are moving up from last year's FIM Trial 125cc Cup class.

These are led by Britain's Jack Peace - Gas Gas who joins his big brother Dan in the class. The seventeen-year-old dominated last season with ten wins and three runner-up finishes from thirteen starts and he also swept the Junior European Championship, remaining unbeaten throughout all six rounds.

Second behind Peace in 2016, Germany's Max Faude - Beta also makes the transition along with fourth-placed Mikkel Brade - Beta from Denmark.

Whether these rising stars will be able to make an impact in their first year in Trial2 remains to be seen but they certainly leave a hole in Trial125 that needs to be filled.

Contested over the opening five events, again with all rounds counting, this new shorter format has triggered a big rise in entries with twenty-eight up-and-coming stars from nine countries registered.

Of the riders who remain in Trial125 for 2017, the highest ranked from last year's campaign are sixteen-year-old Eric Miquel - TRS from Spain who finished third and seventeen-year-old Australian Connor Hogan - Sherco who was fifth.

It must be noted, however, that a number of riders competing this season only made occasional, although very impressive appearances in 2016.

So do not be surprised to see Germany's Jarmo Robrahn - Gas Gas and Lorenzo Gandola - Scorpa from Italy challenging for victories. Both only competed in their home rounds last season and both won both days.

Britain's Billy Green - Beta also only competed at his home round and was rewarded with third and second-placed finishes and Shota Yamazaki - Beta took a pair of thirds in just two appearances, both in his native Japan.

With both Trial2 and Trial125 open for the taking, it will be interesting who will take first blood at the TrialGP Spain this weekend.