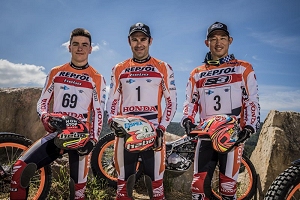 Toni Bou, Takahisa Fujinami and Jaime Busto line up as the Trial Outdoor World Championship season gets underway this weekend. The much anticipated championship opens in Camprodón, Spain where Repsol Honda Team will once again go in search of the title.
Sunday 14th May sees the opening round of trial's top category with the Spanish GP. The event which has been a regular feature in the trial calendar every year since 1975, will this time make its first visit to Camprodón – a natural enclave just fifteen kilometres from France in the heart of the Pyrenees. The championship begins with a Repsol Honda Team trio raring to go and keen to improve on previous results. Behind the bars of the Montesa Cota 4RT, the riders of the team managed by Miquel Cirera and Òscar Giró, will face a tough challenge, particularly as the 2017 season will have some new features.
Ever since Toni Bou scooped his first world title back in the 2007 indoor championship, the Catalan rider has managed to clinch the indoor / outdoor double every single year without fail. Bou now sports a full decade of absolute domination of the trial scene and is hungry to keep on going. Bou was recently re-crowned X-Trial world champion for the eleventh consecutive time. With the indoor title in the bag the rider now moves on to the more taxing and troublesome outdoor discipline in a bid to renew the number one currently emblazoning the Montesa Cota 4RT.
At 37 years of age Takahisa Fujinami is the most veteran rider in the paddock, but in spite of this maintains a level of physical fitness, technique, tenacity and ambition that are the envy of his adversaries. Last season the team stalwart posted third overall place in the championship. A lot of water has passed under the bridge since the Japanese Repsol Honda Team rider won the world title back in 2004, but as he admitted to Bou at the end of the 2016 campaign, there is nothing he would like more than to retire as champion. Charismatic 'Fujigas', the rider with most participations and points achieved at World Championship, will be looking to sustain the momentum for as long as possible and sees the top of the podium as a distinct possibility for 2017.

Basque rider, Jaime Busto tackles a third season with Repsol Honda Team, well aware that he needs to take a leap forward on the scoresheets. This winter, the team's youngest rider has diligently trained alongside team-mate Toni Bou in a bid to raise his level. A podium finish still remains the maximum priority for the rider from Górliz, after having narrowly missed out on the feat on various prior occasions. Busto, likewise, will be wishing to improve on the sixth overall position in which he has finished the two previous seasons.
| | |
| --- | --- |
| | The Trial GP World Championship begins a bit later than usual this year and thanks to that, we have had a bit more time to prepare ourselves after the end of the X-Trial world championship. This year will be really difficult for everyone with the changes that the new world championship promoter has introduced: besides the qualifying, there will be only one day of competition in the six European dates, which means that we will have to be very focused throughout as the slightest error could be really costly. This winter the whole team has worked very hard to be the best because last year the rivals had made the championship really tough. More and better: that's the objective of the team. |
| | After finishing in third place last year, you always think that you can improve. For me, the aim is just that: to improve. I want to feel good in the sections and on the bike and fight like I have always fought. I think that I'm on form at the moment; I've trained hard and I will arrive at the first trial very motivated. Yes, I'm the most veteran rider in the paddock, but for the same reason I'm the one with the most experience and that's always a good thing. I will fight like I did last season to win and I will try and be on the podium as many times as possible. |
| | I'm very confident that this will be a good year for me after having got some good results in X-Trial where I was invited as a wildcard. I think that I have enough experience to fight in every trial and be able to finish on the podium in this new Trial GP world championship and I'm going to try it. Of course I'm in the Repsol Honda Team, with Toni and Fuji as team-mates which is the best place that I could be in to achieve these objectives. We have trained a lot for this season and I think that I arrive on very good form. |