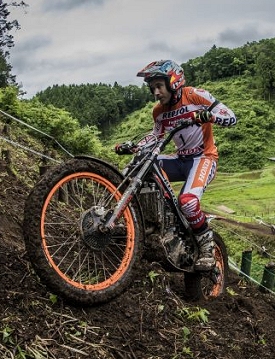 Today saw the first of the two-day Japanese TrialGP held at the Twin Ring Motegi circuit. Fifteen sections over two laps were to decide the occupancy of the top step of the rostrum. On this occasion there was no discussion – a dazzling Toni Bou dominated the proceedings throughout. His team-mate at Repsol Honda Team Takahisa Fujinami took 3rd place on the podium.
Toni Bou remains unbeaten so far this season since first clinching victory on January 7th in Sheffield, UK. The win today in Motegi brings his overall tally to ninety-one; a decisive triumph in below-par conditions after recent rain had left many sections mud-drenched and treacherous.
Bou, who started as the championship leader after a win in the season's opening event, got lumbered with a tricky course after the bad weather of the previous day. Nevertheless, the Montesa Cota 4RT rider, like a fish in water, made short work of the sections, finishing with a scorecard that the adversaries were simply unable to match. Dominating throughout, the champion gave a master class in how to ride in adverse conditions to once again make off with the top honours. Bou stretches his advantage at the top yet further to twelve points over the nearest second-place rival.
Local boy Takahisa Fujinami, with the home crowd firmly behind him, lived up to the occasion. After starting from seventh position with a chance to observe some of the top riders ahead, the Japanese rider dug deep and finished the event on the rostrum. This marks the 27th podium finish for the ex-champ on home soil.
The first Repsol Honda Team member to take the start had been Jaime Busto, in a more complicated trial than had originally been expected. Busto was constantly in contention for a podium finish but picked up a few too many penalty marks in the latter stages and posted sixth overall.
The second and final day of the Japanese TrialGP takes place tomorrow – Sunday – and will feature Toni Bou starting last of the Repsol Honda Team riders in penultimate place at 10:01 and is due to finish at 15:23 after having the two laps with a twenty minute break in between.
With heavy hearts Toni Bou, Takahisa Fujinami and Jaime Busto, along with various other team members had signed a placard paying tribute to the former MotoGP champion Nicky Hayden, who lost his life in tragic circumstances earlier in the week.
| | |
| --- | --- |
| | I'm really happy with the way the start of the championship is going and with the way that I'm riding in particular. We have had two trials in the wet which are the type that I get on with best, but I'm starting to get used to it. The trial was very complicated and the victory is very important not just because the rivals have had different results, but also because it is the 'home' GP for Honda and all the top directors came down to see us. A perfect start and I hope that tomorrow the trial will be as selective; here it's really easy to make a mistake but we will continue to try and obtain the victory. |
| | This podium finish is really important to me. It's not just one more podium, but a podium on home soil at Honda's home as well. It's the first podium of the season and I've achieved it in a really tough trial with each lap of the course different each time round. Plus there were a lot of contenders for the podium. I'm very happy with the third place. Tomorrow we will battle to finish on top again. It won't be easy but we try our best as always. |
| | I think that the first lap went pretty well and I was able to get through the sections, but on the second time around it was a lot more slippery and I made a few mistakes. I hope that tomorrow I will be able to do better from the start and hopefully the hazards will have dried out a bit. |