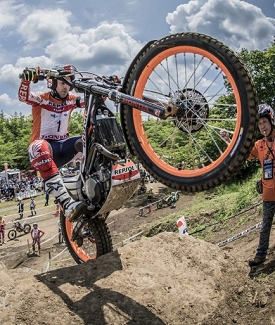 Repsol Honda Team rider Toni Bou was once again victorious in Motegi, in a far easier trial than the previous day, maintaining a score equal to the other top riders. Takahisa Fujinami today posted fifth and Jaime Busto was sixth, level on points.
Another victory for Toni Bou in Japan as the champion continues the full house of victories in the 2017 season. The Repsol Honda Team ace commanded a trial that proved to be a walk in the park compared to yesterday's rain-soaked affair. The skies had cleared and the mud had dried by the time the competitors went through. As a consequence however, the difference between adversaries was drastically reduced. A series of errors tightened the fight for the championship leadership, which was not decided until the final fifteen sections of the course. This marks the sixteenth win for Bou in Motegi and allows the rider to stretch his advantage in the overall world championship standings to fifteen points over Adam Raga.
Japanese Repsol Honda Team team-mate Takahisa Fujinami once again went in search of the podium, although a minor error was enough to stop the rider repeating the success of yesterday. Fujigas posted fifth on the day.
Jaime Busto pushed hard in the second lap after a less-than-brilliant first time round. Lap two brought a five in section three before the young Basque produced a string of good results to take him level on points with team-mate Takahisa Fujinami. In spite of the draw the rider had to settle for sixth place as he had done yesterday.
Next date for the World Trial Championship takes place on the 17th (qualifying) and 18th (race) June in Sant Julià de Lòria, Andorra. The weekend before Bou and Busto will be in action in the Spanish championship in Arnedillo.
| | |
| --- | --- |
| | It couldn't have been better this weekend. Despite suffering a lot today because the trial was extremely easy, there was a lot of pressure not to make mistakes that would have complicated the final result. But I was able to achieve it with a zero in the last zone and win the race. I'm happy to have been able to put up with the pressure and I want to thank the team for a great job this weekend. We will see how the next events go, but we have made a good start to the World Championship. |
| | It was a shame because I thought I would have been able to repeat the podium of yesterday. I have had a slight problem with the chain in one of the easy zones and I think it was fatal, because I missed out on a final prize. Fifth is not bad, but I thought that I would have been closer to Toni as it was so closely fought today… it has left a bad taste in my mouth. But, on the whole, I'm happy with how it went this weekend, to be back in competition in Japan and the whole public that has encouraged me non-stop from section one through to section fifteen. Many thanks to all the fans. |
| | Even though the result is the same as yesterday's sixth place, I think I've done a little better. In the first round they gave a very harsh 'five' and I made a lot of mistakes in the final sections, which were quite easy. On the second lap I fell in section three and from then on I finished the trial almost without penalty marks. A pity because I wasn't able to make amends for the disastrous first round. |