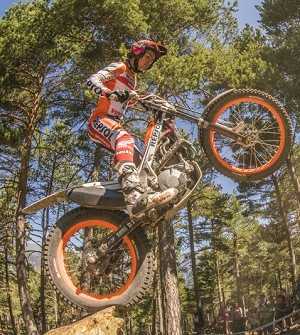 Two Repsol Honda Team riders made it onto the podium in round three of the TrialGP World Championship disputed this weekend in Andorra. Jaime Busto finally grabbed a top-flight rostrum place, while team-mate Toni Bou took the third spot.
The big name this weekend – if champion Toni Bou doesn't mind – is Jaime Busto. After commanding the qualifying round yesterday, the young Repsol Honda Team rider showed great focus and technique today. Busto led for most of the event before taking second place at the close. A mere point separated the promising younster from the day's eventual winner Adam Raga. This marks the first world championship podium spot for the Basque rider since he debuted in the top category in the 2015 season.
Toni Bou meanwhile, conceded five of the fifteen point advantage that he had at the start of the trial to arch-rival Adam Raga. The third place overall was caused by a serious error in one of the final sections of the first lap, which saw the champion miss one of the obligatory passes. In spite of notching up the top score on lap two, with six marks, Bou finished a point adrift of his team-mate and two behind the day's winner.
The remaining rider of the Repsol Honda Team trio, Takahisa Fujinami, was in the battle for a top finish until one too many mistakes saw the Japanese rider have to settle for fifth place. Fujigas is now in fourth position in the Championship standings.
There will be no break for the world championship which stops off in Lourdes, Frances, for the fourth date of the season next weekend. Like the rest of the European dates, the competition will be just a single-day event on Sunday.
| | |
| --- | --- |
| | The worst mistake was the one that I made in section fourteen as I did the section virtually without looking as I was really running out of time and I went outside of the permitted zone. That error proved really costly and basically robbed me of the victory. The other penalties were to be expected, but that one at the fourteenth… Well, we all know that these are things that can happen, so the only thing that we can do is keep on fighting round by round in the championship. |
| | Today's trial was, as we had expected, a tough one. When we went to check out the zones they looked easy, but in the end you either get a zero or you end up with the penalty. I made a few mistakes and in the end I had to really rush as the time was running out. I ended up finishing fifth, a bit off the podium, but I am sure that there will be better races ahead. I wish to congratulate Jaime or his first podium in a world championship. Keep it up Jaime! |
| | I'm really happy to finally get my first podium in a world championship. Last year I was really close and this year had started quite badly, so it was time to change the trend. The weekend went very well, yesterday with the pole position and I'm really pleaded with today's second place |
Image Gallery