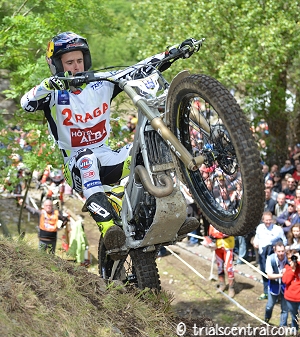 Adam Raga will be seeking continued success in France after his Andorra winThe 2017 TrialGP France at Lourdes this coming weekend continues the nation's long association with the sport at the very highest level.

France is steeped in Trial history. The country famed for its fine food and even finer wine was there right at the beginning, hosting a round of the inaugural European Trial Championship in 1964 and remained on the calendar for the next ten years until the series became the FIM Trial World Championship.

From that first year in 1975 France then enjoyed an unbroken run of FIM Trial World Championship events until 1990 when it slipped from the calendar. Although it was back in 1991 and has featured every year since making it the most popular destination in the rich history of the sport.

Crunch the numbers for a moment and it all becomes clear. In the forty-three-year history of the FIM Trial World Championship this will be France's forty-second appearance on the calendar and when you add in those early European rounds you get a staggering total of fifty-four events out of a possible fifty-five.

The venue for the Trial has shifted around the country on numerous occasions before settling on its current location in the famous spiritual town of Lourdes close to the foothills of the Pyrenees for the first time in 2016.

The most popular TrialGP France winner surely has to be three-time World Champion and current FIM Trial Director Thierry Michaud who enjoyed huge support when he won his home round in 1983, 1985 and 1986, however the rider boasting the most number of TrialGP France wins is British legend Dougie Lampkin with a total of thirteen victories.

It is perhaps fitting that the man who won seven consecutive FIM Trial World Championships set this record when he achieved his final triumph - an unparalleled ninety-ninth TrialGP career win - in France in 2006.

But records are made to be broken and Spain's Adam Raga - TRRS is snapping at his heels with his total of twelve TrialGP France victories and a win this weekend would mean a tie at the top.

By his own incredibly high standards reigning World Champion Toni Bou - Repsol Honda is lagging behind with 'only' seven French victories to his name although you can be sure he has win number eight firmly in his sights.

Of the other riders competing in Lourdes this weekend, only Japan's Takahisa Fujinami - Repsol Honda with four wins and Albert Cabestany - Sherco with one have ever stood on the top step of a TrialGP France podium. The best of the rest is Jeroni Fajardo - Vertigo who has scored nine podium finishes.

Of course, there is one other winner of a TrialGP France in action this weekend. Spain's Marc Colomer who won in 1996 on the way to his sole FIM Trial World Championship and he will be aiming to add to this tally when he competes in the first ever FIM TrialE Cup for electric motorcycles.