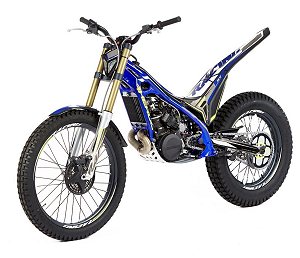 UK Importers Malcolm Rathmell Sport are delighted to announce that they are expecting the first batch of 2018 bikes by the end of this month and all being well it should see its debut at the Reeth Three Day Trial which takes place at Grinton, near Reeth from 21st-23rd July.
Sherco have certainly been busy burning the midnight oil with many welcome modifications . Main changes for the 2018 bike are the Tech Forks (first developed in conjunction with the Sherco technical crew) which are in gold aluminium with a new Reiger shock for ultimate rear suspension. The new diaphram clutch developed last year has seen major improvements with many new modifications and a new AJP master cylinder. Two very welcome modifications are to the airbox for ease of access and alterations to the radiator to allow a quick refill.
The 125 ST has also seen a lot of development with a revised primary drive ratio which allows the factory to fit the same front and rear sprockets as the bigger models – 9T on the front and 44T on the rear. All other modificatons are the same as the bigger models:
Progressive exhaust geometry
Twin spark CDI (performance boosted at lower RPM) for smoother transmission
New Clutch slave seal/hose for imcreased precision and reliability
New low volume master cylinder for better feel
New larger air box for improved performance and new filter holder for easy removal
New Primary transmission ratio for better shock absorption reduction in sprocket diameter on the 125 model
Lighter, gold tech alumuminum forks
Reiger Rear Shock – upgraded shock absorption
Fuel tank vent hose relocated/new position of map switch
Reinforced rear subframe/position of foot rests
New radiator cap for easier access
New rear sprocket guard for optimized safety
Anthracite grey engine colour/black swinging arm
New striking white, yellow and blue graphics
Please contact your nearest Sherco dealer for more information regarding either the models for delivery times.