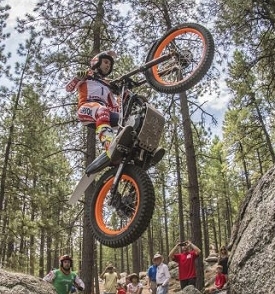 Toni Bou scooped a decisive victory at the opening round of the USA TrialGP in Arizona. The champion took his career tally to 95 triumphs and inches ever closer to an eleventh outdoor world title. Repsol Honda Team stablemate Jaime Busto accompanied Bou on the podium in third place.
The first of two days at the United States TrialGP, held at Hualapai Mountain Park in Kingman, brought notable results for the Repsol Honda Team. The trial route proved to be more simple than previously expected, as the high temperatures offered great grip on the mountain rocks. This evened up the competition among the riders and meant that any slight error would dictate the top positions.
Toni Bou, celebrating exactly a decade since achieving his first ever world title, laid down the gauntlet in an excessively easy trial. Repsol Honda Team sidekick Jaime Busto was able to pull back from a below-par first lap to finish with a third podium of the season. Takahisa Fujinami jostled with the top three despite having started further back in the field as a result of yesterday's qualifying section, then watched as one of the sections was eliminated. The Japanese rider dropped to eighth position.
| | |
| --- | --- |
| | I am very happy because it was a very hard race because of how easy it was - the easiest I have had to race lately. We suffered badly; we endured a lot and knew that any mistake could eliminate us. Failure was always possible and in addition, at 2000 metres altitude, the bike doesn't perform as well, making it easier to make mistakes. I am happy for how I endured the pressure and for the victory which gives me more points for the championship. On the other hand, I am disappointed because in such a spectacular place for a trial bike, with incredible support from the fans, they lowered the degree of difficulty of the sections ... A two-point lap and another lap of zero is not very good. For tomorrow hopefully they will have changed many sections... |
| | I don't think it was a handicap to start from behind. The course hadn't changed that much from the first riders to those starting at the back. There were ramps and stones with good grip. My problem was that I had chosen a different set-up of the bike to those of Toni and Jaime and the bike was not so powerful and on some steps I was a step short. For tomorrow we will change the settings and think positively. |
| | I am very happy to be on the podium again. I made some mistakes at the beginning and also in one section I picked up more marks than those who had already done it and everything was very tight. But on the second lap I tried to hold on and it worked out pretty well, I hope tomorrow will be better. |