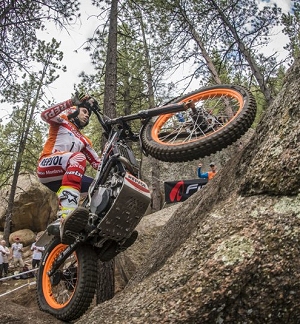 The great dominator of the weekend in Kingman, Arizona, once again proved to be the king of trial over the last decade: Toni Bou. The Repsol Honda Team rider continues to edge closer to the eleventh title. Jaime Busto meanwhile clinched a fantastic runner-up stop.
After overnight rainfall, the sections had become somewhat more complicated than the previous day, although the organization had also decided to change some steps in the sections although without raising significantly the difficulty level.
In these conditions, Toni Bou found himself far more at ease and was able to cruise around without the added pressure of having to avoid mistakes. On the first lap he was penalized just three points and six on lap two, clearly stamping his authority on the trial and coming away victorious once more.
It was a double-headed Repsol Honda Team success with Jaime Busto finishing in second position and strengthening his overall third position in the championship general standings. The Basque rider finished ahead of his teammate Takahisa Fujinami who today, like yesterday, was out of the battle for a podium spot, eventually having to settle for seventh place.
The weekend's results give Toni Bou the opportunity to go into the next trial with a twenty-eight point advantage, which means the Repsol Honda Team rider could mathematically seal the championship title before arriving at the season's final date.
Repsol Honda Team's trophy cabinet continues to fill up, this time with Montesa taking the constructor's title on Sunday with an advantage of more than 80 points over second-placed TRS, with two championship events still to go.
The team move on and will compete in the seventh and penultimate event of the TrialGP FIM World Championship in Sokolov, Czech Republic to be held on 10th September.
| | |
| --- | --- |
| | I'm really happy about how the trial went. It seemed that with last night's rain it would be a bit more delicate, but soon it got easy. Three points on the first lap are too few. I am very happy with my riding in an easy trial, and it's a big step forward in the championship because this has been a fantastic weekend. Now we can enjoy a very well-deserved summer break. We've had a great season so far in all three of the championships, so now, let's play hard and enjoy the summer! |
| | I'm not very happy. It's been a tough weekend for me. I found some sections with large steps, that I can normally get up, but here at 2000 metres altitude, the engine didn't perform as usual and I was well aware of that. I did not have much confidence and it was very difficult. Yesterday was very hard for me, but for the championship I can still fight to finish in a good position |
| | I'm very happy. Today I did better than yesterday, and already in the first round I have only committed one serious error. In the second, I also felt at ease with the sections despite a small fault. For the championship this is a great result. The goal is to try to finish third, doing well in the remaining two races. |