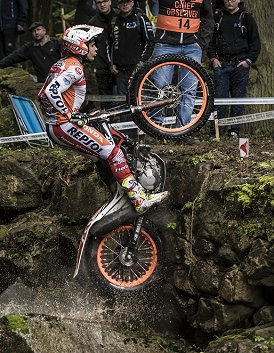 Sensational Spaniard Toni Bou - Repsol Honda clinched the 2017 FIM Trial World Championship and claimed an unparalleled eleventh straight title at TrialGP Czech Republic, the penultimate round of this year's series.

The thirty-year-old from Barcelona, the most dominant rider in the history of Trial, once again rewrote the record books with next weekend's TrialGP Italy still to go despite tasting defeat for only the second time this year as Adam Raga - TRRS came out on top at Sokolov.

With the majority of the mostly natural hazards comprising imposing rocky outcrops and steep, slippery bankings on a heavily wooded hillside, torrential overnight rain forced organisers to extensively ease sections and cut out two altogether for the female competitors.

An expensive opening lap of twenty-six saw Bou reach the halfway point of the Trial in third, trailing compatriots Raga and Jaime Busto - Repsol Honda who were tied on eighteen marks each.

The reigning World Champion fought back at the start of lap two, but he was forced to survive a nail-biting final run-in that saw him take three maximums on the trot before securing second by a single mark with a fantastic clean on the very last section.

Raga drew on his two decades of experience of Trial at the very highest level and despite a maximum score on the final section he took his second win of the season, his total of thirty-six giving him a surprisingly comfortable winning margin of seventeen over Bou.

"I'm very happy," says Raga, "especially because it has been one of the most difficult events of the year. Conditions were very slippery so it has shown the level I am at and I feel very proud to win."

Bou's teenaged team-mate Busto secured his third consecutive podium finish on a most-cleans tie-break with Jeroni Fajardo - Vertigo despite a high-scoring second lap of thirty-three that at one point dropped him to fourth behind his fellow Spaniard whose lap-two total of seventeen was matched only by Raga.

Japan's Takahisa Fujinami - Repsol Honda, the only rider in the top five not to incur time penalties, was fifth on fifty-nine ahead of Albert Cabestany - Sherco from Spain whose six time penalties dropped him to sixth on sixty-four.

Miquel Gelabert - Sherco from Spain claimed seventh, two further adrift of Cabestany and one mark ahead of Germany's Franz Kadlec - Gas Gas and eleven clear of Britain's James Dabill - Gas Gas who was ninth. Jorge Casales - Beta from Spain rounded out the top ten on eighty-four.

Britain's defending TrialGP Women World Champion Emma Bristow - Sherco produced a virtually faultless performance to take a dominant victory and maintain her win-streak that stretches back to May 2015.

The twenty-six-year-old, who is aiming for a fourth consecutive FIM World title, parted with only five marks and dropped just a single dab on the second lap to finish twenty-six clear of second-placed Sandra Gomez - Gas Gas from Spain and thirty-five ahead of Germany's Ina Wilde - Gas Gas in third.

"It's been a really good day," says Bristow, "and I couldn't be happier with my riding - especially the last lap, although being a perfectionist I'm a bit disappointed to have dropped a mark."

"I'm over the moon with my riding and felt really strong and it's a really good result for the championship as well. It's never over until it's over, but it's looking good for a fourth title."

Gomez's result moves her up to second in the title chase, albeit thirteen points behind Bristow, with one round to go after Germany's Theresa Bauml - Beta, who had been second heading into TrialGP Czech Republic, crashed out of contention with a disastrous eleventh-placed finish.

After slipping to third on both days at TrialGP USA and allowing Gabriel Marcelli - Honda from Spain to close to within seven points, Britain's Iwan Roberts - Beta re-established his lead at the top of the Trial2 championship with a comfortable second place behind Marc Riba - TRRS.

The Spaniard's total of thirty gave him his first win of the championship, but Roberts - who dropped thirty-three - still extended his lead to sixteen points over Marcelli who slumped to eighth on the day.

Britain's Jack Peace - Gas Gas, the 2016 FIM Trial125 Cup winner, had his best result of the season so far with third on thirty-five after winning a most-cleans tie-break from Francesc Moret - Honda from Spain.

With just next weekend's TrialGP Italy to go Roberts looks odds-on to become the first-ever FIM Trial2 World Champion.

In the super-competitive Trial2 Women class it was Spain's Neus Murcia - Beta, the series leader by just one point after the opening two events in America in July, who extended her championship advantage with a five-mark victory over yesterday's qualification pole-setter Jule Steinert - TRRS from Germany.

Carla Caballe - Gas Gas from Spain finished third a further five marks behind to move up to second in the series standings.

All attentions now turn to next weekend's final encounter, TrialGP Italy that will bring the 2017 series to a close.
pdf Download Full TrialGP Results (346 KB)
pdf Download Full Trial2 Results (350 KB)
All Series Results & Championship Standings
pdf Download Full Trial2 Women Results (347 KB)
pdf Download Full TrialGP Women Results (346 KB)
All Woman's Series Results & Championship Standings
Images: P. Segales