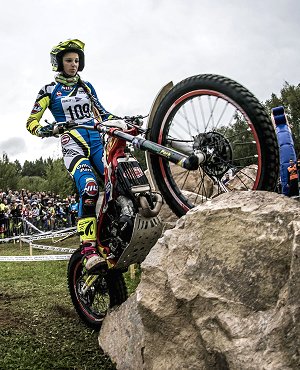 Sara Trentini will be flying the flag for her homeland in the final round of the Women's TrialGP this weekendItaly has been a go-to destination for top-flight Trial since 1972 when it staged a round of the European Trial Championship, and TrialGP Italy this coming weekend - the eighth and final round of the 2017 FIM Trial World Championship - marks the fifty-first time the country has provided a stage for the best riders on the planet.

The venue at Arco Di Trento's Metzler Offroad Park, used for the first time this year, is two-and-a-half hours north east of that original setting at Selvino where forty-five years ago the late, great Martin Lampkin claimed victory by one mark from Swiss rider Gottfried Linder.

With Martin's name forever etched into the history of Trial in Italy it's only fitting that his son Dougie - six years after he called time on his own illustrious career - still holds the record for the most TrialGP Italy wins although, following Toni Bou's double win last year, he now shares this benchmark total of nine with the Spanish superstar.

In 1973 the Trial moved to Monte Avaro where Mick Andrews won and the following year Malcolm Rathmell made it a hat-trick of British winners with victory at Passo Di Presolana.

Martin Lampkin was back on top in 1975 when he claimed the second win in a campaign that would ultimately lead to the inaugural FIM Trial World Championship title before the event returned to Passo Di Presolana and Andrews returned to the top of the podium.

With a perfect five-from-five record it truly was a case of Rule Britannia in those early years, but after a twelve-month break TrialGP Italy was conquered in 1978 by America's Bernie Schreiber. France's Charles Coutard then won in 1979 before Schreiber took his second victory in 1980.

Spaniards have won TrialGP Italy more times than riders from any other nation, although it was not until 1981 that Toni Gorgot became Spain's first winner. After that Belgian Eddy Lejeune claimed three in a row in 1982, '83 and '84 on his way to a hat-trick of FIM Trial World Championships.

Lejeune secured his fifth place in the all-time winner-s list in 1986 with his fourth victory and then Jordi Tarres reeled off five consecutive wins. The legendary Spaniard's run was stopped in its tracks on a memorable July day in 1992 at Camerino when the much-missed Diego Bosis became the first Italian to win TrialGP Italy. Just to add to his triumph Bosis, who we tragically lost in 2012 aged only forty-four, was riding an Italian-built Fantic.

Tarres won again the following season, however in 1994 Bosis repeated his performance of two years earlier with his second TrialGP Italy victory - this time mounted on an Italian-built Beta.

Tarres took his seventh and final TrialGP Italy win in 1995 which places him in third on the all-time winner's list before his compatriot Marc Colomer claimed his sole victory in 1996.

After twenty-one years without a winner Britain was back on top in 1997 thanks to the sublime skills of Dougie Lampkin. The seven-time FIM Trial World Champion went on to take a further eight TrialGP Italy wins with his run only interrupted by Spain's Albert Cabestany on the first day of competition in 2000 and by Japan's Takahisa Fujinami on day two in 2002 and 2003.

Fujigas would go on to take a further three TrialGP Italy wins to claim fourth in the winner's role of honour before 2007 signalled the beginning of Bou's incredible reign and the ten-time FIM Trial World Champion has won almost every year since.

Only Adam Raga has managed to interrupt Bou's run with victory at Barzio in 2009 to add to his only other TrialGP Italy win on day one at Valbondione in 2005.

Another Bou triumph this coming weekend would see the new champion not only round out the 2017 season in style, but also see him become the outright holder of the most TrialGP Italy wins.