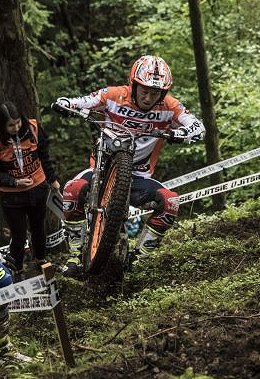 This weekend sees the close of the FIM TrialGP World Championship calendar in Italy. Toni Bou arrives as the newly-crowned world champion. Jaime Busto and Takahisa Fujinami, however, have yet to secure their final overall positions.
After a recent spate of headlines in Repsol Honda Team's communications, Toni Bou, for once, will let team-mates Jaime Busto and Takahisa Fujinami take centre stage. The TrialGP season is drawing to a close and both look to finish in the best possible positions. Pietramurata's Off Road Park in Trento will host the final event of what has proved to be another highly-successful campaign for the Repsol Honda Team.
Jaime Busto will be hoping to end a more-than-positive season by consolidating his current third position in the overall rankings. The young gun led for a large part of the trial in the Czech Republic last weekend. The aim for the talented Basque rider at the Pietramurata Offroad Park will be to stay on the same upward trajectory.
Repsol Honda Team comrade Takahisa Fujinami, likewise, goes in search of the best possible result in the overall standings with the Japanese stalwart a mere two points off fourth place. 'Fujigas' has followed a very specific training regime to arrive in Italy on top of his game.
| | |
| --- | --- |
| | Now that we have completed the first objective, which was to win the title; this weekend we will try to finish this world championship season in the best possible way. I think it is something I also owe to myself after not having had the best sensations last weekend. Also, we expect Pietramurata to be full of 'tifossi' and I would like to thank them in the best way for all the support that they've given throughout the season. |
| | I already mentioned last weekend that I have to put what happened in Sokolov behind me and get the good feelings back on the bike in the sections. Throughout the year I have worked hard to achieve this - this week too - so I hope to have a good trial in Trento to end the year well and finish in the best possible position. |
| | The last race of the world championship has come and after what happened last weekend in the Czech Republic, I hope to be able to overcome it. I was in first place for a long time, although I didn't feel comfortable. Italy is a good place to try and do better than I did last Sunday. The third position in the overall standings is a real possibility so it would be great to be able to get it with a few points. |