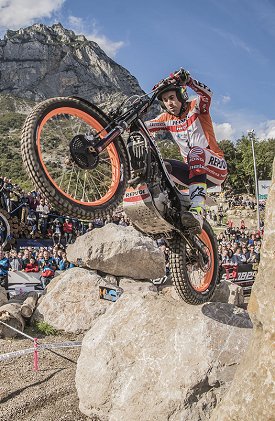 Sensational Spaniard Toni Bou - Repsol Honda will start tomorrow's TrialGP Italy, the eighth and final round of the 2017 FIM Trial World Championship, at the back of the field after an explosive timed qualification at the Metzeler Offroad Park at Arco di Trento.

With almost the entire field throwing caution to the wind, the huge crowd - the largest we have seen for qualification this year - and a sizeable global online audience were treated to fireworks as the top Trial riders on the planet went to war!

Starting third, the record-breaking World Champion - who secured his eleventh successive TrialGP title last weekend in the Czech Republic - clearly meant business from the moment his front wheel broke the timing beam at the start of the section.

Having watched compatriot and team-mate Jaime Busto set a seemingly unbeatable time of 0:28.65 with the opening run of the session, blistering Bou tore through the man-made section comprising a series of massive boulders punctuated by tight turns on a loose gravel surface.

Busto gained a vital advantage with a big sideways flick from an imposing angled rock and Bou copied his nineteen-year-old rival in spectacular style to post an incredible time of 0:25.43 to secure his fourth qualification win of the season.

"I wanted to give it one hundred per cent and put on a good show for the fans so I'm very happy to record the best time and take pole," says Bou. "It's important to start last as TrialGP Italy is very special for me because I have many friends here so I'll be pushing for the victory tomorrow."

With section conditions remaining constant, Adam Raga - TRRS seemed intent on pushing tyre technology to the limit as he charged around the twisting technical turns to record a time 0:00.84 faster than Busto who was then knocked back to fourth by Britain's James Dabill - Gas Gas who hung it out on his way to a time of 0:28.24. Italy's Matteo Grattarola - Gas Gas was a hugely-popular fifth, 0:00.17 behind Busto, before a one-and-a-half second gap back to Japanese fan favourite Takahisa Fujinami - Repsol Honda.

Competing over an eased course, Spain's Sandra Gomez - Gas Gas handed reigning FIM TrialGP Women World Champion Emma Bristow - Sherco from Britain her first qualification defeat of the season.

Starting second, Gomez's time of 0:34.70 didn't look close to being challenged until Bristow's run, but even the clear championship leader couldn't match her and fell short by 0:01.15. Germany's Theresa Bauml - Beta was third almost a second behind Bristow.

"It feels very good to win qualification," says Gomez. "Today I've felt very good with more motivation than ever for tomorrow so it's fantastic."

Hakon Pedersen - Gas Gas appeared to have qualification victory sewn-up in the ultra-competitive Trial2 class. Starting twelfth, the Norwegian posted a time of 0:31.03 on a route that was easier than TrialGP, but tougher than the Women's.

However, Britain's Toby Martyn - Vertigo, the penultimate rider away, had other ideas as he recovered from a major mistake over a long line of boulders to take victory for the second weekend in a row with a time of 0:30.13. Spain's Marc Riba - TRRS was third a full second behind Martyn.

Championship leader Iwan Roberts - Beta from Britain was ninth, but he'll start tomorrow's main competition with a slim advantage over title rival Gabriel Marcelli - Montesa from Spain who was tenth.

Spain's Neus Murcia - Beta kept her Trial2 Women title ambitions firmly on-track with second behind home heroine Alex Brancati - Beta whose time of 0:46.76 gave her victory by 0:03.80.

Germany's Jule Steinert - TRRS was third ahead of Carla Caballe - Gas Gas from Spain who is second in the standings, seven points behind Murcia.

Tomorrow we will see the final round of the 2017 series get underway, with the first rider heading out at 09:00hrs.
Images: P. Segales