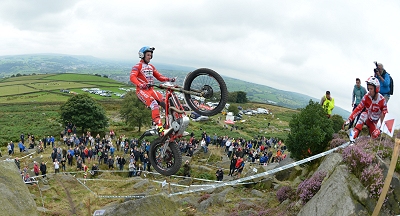 James Dabill in action at Addingham during year's Yeadon Guiseley SupertrialTrial is truly coming home with the recently confirmed 2018 FIM Trial World Championship calendar revealing that TrialGP Great Britain 1st - 2nd September - that will include both Men's and Women's classes - will be staged at one of the most renowned and iconic venues in a country that is widely regarded as the birthplace of the sport.

Sitting high on the hill overlooking the famous Yorkshire town of Silsden, Addingham Moorside represents a genuine Trial venue with its huge granite boulders and rocky outcrops being amongst the most revered in Great Britain.

Global Trial fans will know the significance of the town of Silsden with it being home to several generations of the highly respected Lampkin family who have brought so much to the slow speed discipline over the years. Moreover, it was also the home of the late and first ever FIM Trial World Champion Martin Lampkin who lifted the inaugural title back in 1975.

Used almost daily as his preferred practice area during the height of his career, it is no coincidence that Martin's eldest son Dougie was so dominant for near on a decade with this awesome facility on his doorstep and readily available as his private playground. As well as playing its part as a top-level venue, having hosted numerous national championship events, the rugged hillside has also been eternally responsible for holding countless youth competitions that have given rise to the next generation of Trial riders.

With the venue now under the careful management of Yeadon, Guiseley and District Motor Club, Sport7 as the promoter of the TrialGP series are pleased to have reached an agreement with the club, the various landowners and ACU whose early co-operation and willingness has been key to being able to include Addingham Moorside in the 2018 TrialGP calendar.

Initial planning is already underway to make TrialGP Great Britain one of the biggest and most important stops of the 2018 series with a full weekend of activities being prepared to give Trial fans two days of unique and exceptional entertainment.

Speaking about this exciting announcement TrialGP Championship Director Jake Miller said. "Firstly we would like to say a big thank you to Yeadon, Guiseley and District Motor Club, the associated landowners and the ACU who have been nothing but positive since we proposed to bring TrialGP to Addingham Moorside."

"Having previously delivered five hugely successful TrialGP events in Britain, three at Hawkstone Park and two in Fort William, we feel that we have both the experience and the team of people to create something very special at this iconic venue, that is without doubt one of the best Trial facilities in the country."

"As Great Britain is considered the place where Trial first began we always wanted to bring TrialGP back to a venue that was true to the sport. We believe that the new TrialGP format will be ideally suited to this compact setting and will deliver incredible and easily viewable action. Additionally, qualification will be an amazing spectacle on this famous hillside and will be sandwiched into Saturday's non-stop schedule that will include some additional special events."

Miller ended by explaining. "We are already working with the local authorities to put a traffic management plan in place so access both into and out of the venue will be as easy as possible for visitors, whilst also respecting the needs of the nearby residents. However due to the restricted nature of the site it looks like we may have to set a limit on the number of spectators we can allow into the venue. Whist we do not envisage that this will impact the crowd size significantly, it will be important for fans to realise that tickets will be available on a first come first served basis when they go on sale early in the new year."