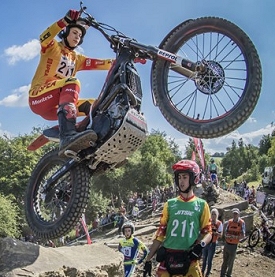 Despite being forced to combine schoolwork with an exceptionally promising career on two wheels, red-hot prospect Gabriel Marcelli - Montesa still managed to finish second in the 2017 FIM Trial2 World Championship and he is aiming to go one better this year.

The eighteen-year-old from O Rosal - a stone's throw from the border with Portugal in Galicia in North West Spain - is still continuing with his studies, but his rock-solid work ethic means he is confident he'll be ready to go when the 2018 series gets under way at Camprodon in Spain on 19/20 May.

"I'm still in school so I can't train as I want, but I always find time to improve my physical condition and skills on the bike," says Gabriel. "Obviously, it's not easy - I don't have time to relax - but I hope the sacrifices I make will lead to a better future for me."

Gabriel's total of four wins last season was double that of anyone else. Inconsistent form meant he missed out on the inaugural Trial2 World Championship crown by eighteen points, but he remains delighted with his final position.
"I still can't believe it - for me it was a dream! At the beginning of the season I didn't imagine that result, but it makes me more confident and this year I will give all I have to fight for the title."

If he is successful this season over the eight-round series Gabriel will realise his ambition to compete with the best riders on the planet in 2019, including his idol Toni Bou, in the premier TrialGP class.

"Toni is the best Trial rider in the World. His style and skills are on another level and impossible to imitate - that's why he is my favourite rider."

"When I was a kid I watched videos of him, Adam Raga and the greatest riders in the World. Now I have the opportunity to ride with them, compare myself to them and be one of them - that's a dream which is becoming reality!"