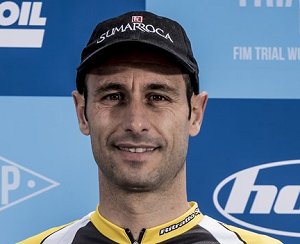 When the 2018 FIM Trial World Championship kicks off at Camprodon in Spain this coming weekend there will be a very familiar face on what is for him quite an unfamiliar machine.

For the last thirteen years Spain's Albert Cabestany has been synonymous with the Sherco marque, but the veteran from the Catalan city of Tarragona will start his twenty-first season in top-flight Trial competition mounted on a Beta after making the switch during the off-season.

Following a tough 2017 season that saw him slip out of the World top five for the first time in fourteen years, Albert - who celebrates his thirty-eighth birthday next month - decided to return to the Italian manufacturer who he won the FIM X-Trial World Championship with in 2002.

"Last year was very hard for me," says Albert, the current World number seven. "In my mind I thought it could be the last, but after the season I thought that wasn't the way I want and deserve to finish my career so I decided that I wanted a bike that fits my riding. I had the chance to speak with Lapo Bianchi and Donato Miglio and after sharing our thoughts and trying the bike I immediately knew I wanted to ride this bike for 2018!"
Albert has gelled very quickly with his new machine and as early as February took a third place ahead of World number three Jaime Busto at the opening round of the Spanish Trial Championship. "The truth is that I feel so comfortable. From the very first minute riding the Beta I understood that it would take some time to bring out my best, but the main things I was looking for in my bike I found in the Beta Evo. I think it is the first time in my whole career that I don't look to my competitors' bikes thinking they have a better weapon than me and this is a fantastic feeling."

After a solid winter programme of testing and training Albert has his set-up fully dialled in and is confident he can perform at his best in the premier TrialGP class, saying "Being honest, I put a lot of pressure on myself because I would like to be in the top positions again. I know this year will be more difficult than ever before because the younger riders are more ready than ever, but I think I have a good chance and I hope to end the season in a podium position!"