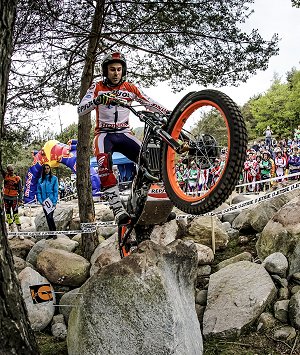 Could this be the season someone finally stops the Toni Bou train?The 2018 FIM Trial World Championship fires into life this coming weekend at Camprodon in Spain where the big question on everyone's lips will be can anyone derail the Toni Express?

Toni Bou - Repsol Honda has dominated top-flight Trial for the last eleven seasons and this year the superstar Spaniard has his sights set on extending this record-breaking run to twelve TrialGP titles on the trot. Not even a serious back injury could stop the thirty-one-year-old from the Catalonian capital Barcelona from lifting his twelfth consecutive FIM X-Trial World Championship earlier this year and Bou's steely focus is now directed at matching this incredible achievement outdoors.

"This is one of the most important moments of the season - the start of the FIM Trial World Championship," says Bou. "As always, it is important to start on the right foot at the first round. After the injury I will not be one hundred per cent and I will have to be careful not to relapse, but I've started other seasons without being completely physically fit and I trust in the good work that I am doing and believe I can compensate. It will be a long and difficult season because my rivals are always pushing to achieve the same goals that I have so I cannot relax and will have to fight until the last section at every round."
Bou has ninety-seven TrialGP wins to his name and is expected to break British legend Dougie Lampkin's record of ninety-nine victories this season. Realistically, if anyone else in the TrialGP class can claim a top podium place finish this season it will come as a major upset, but with the majority in their late teens and early twenties they have time on their side.

Camprodon will also mark the start of the Trial2 and Trial125 campaigns as riders attempt to negotiate their way up - or in a couple of cases down - the World Championship ladder. In action at all eight rounds on the 2018 calendar, Trial2 is a two-way street that offers up-and-coming riders a springboard into TrialGP, but also gives competitors in the elite class a chance to step back from the intensity of locking horns with the likes of Bou, Raga and Busto.

Most definitely in the up-and-coming category, Spanish teenager Gabriel Marcelli was second in Trial2 last year and along with fellow Montesa riders Francesc Moret from Spain and Britain's Toby Martyn - who finished third and fourth with a round win apiece - will be looking to emulate 2017 champion Iwan Roberts - TRRS and progress into TrialGP. At the opposite end of the spectrum, thirty-year-old Italian Matteo Grattarola - Montesa and twenty-nine-year-old Frenchman Loris Gubian - Gas Gas have dropped down from TrialGP. Ranked tenth last season, it will be fascinating to see if Grattarola can challenge for the title while Gubian will divide his time between Trial2 and the TrialE class which for 2018 will be contested over two rounds.

Of course, these are by no means the only riders in contention. In a class full of hungry, ambitious young talent expect challenges to come from the likes of Britain's Dan Peace - Gas Gas and his youger brother Jack Peace - Gas Gas along with Spain's Marc Riba - TRRS and Frenchman Gael Chatagno - Gas Gas who both took a round win last year. Camprodon will also mark the Trial2 debut of seventeen-year-old Italian Lorenzo Gandola - Scorpa, last year's Trial125 champion, who is taking the next step in a very promising career.

Awarded full FIM World Championship status for 2018 to bring it into line with the TrialGP and Trial2 classes, Trial125 is a hot bed of potential and there is a possibility that somewhere in the twenty-one-strong entry is a future Toni Bou. Out of the riders from last year who remain in this division, the top six come from five different countries and the total entry features riders from eight nations which can only be a good thing as Trial becomes increasingly global.

With Gandola moving up, Britain's Billy Green - Beta starts as favourite in the five-round series. Last year's number two, the sixteen-year-old won on the opening day in Japan in 2017 and never finished off the podium.

France's Fabien Poirot - Gas Gas also savoured the sweet taste of victory in 2017. His win come at his home round and ensured he secured third place in the championship on a tie-break from his compatriot Kieran Touly - Sherco. Touly will compete in Trial2 this year which leaves Spain's Eric Miquel - TRRS as the top two's nearest challenger followed closely by Norwegian Jarand Matias Vold Gunvaldsen - TRSS, diminutive French fifteen-year-old Hugo Dufrese - Gas Gasand Carloalberto Rabino - Beta from Italy.