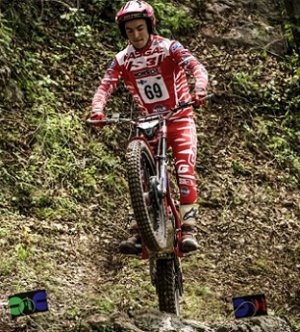 His riding kit and bike may have changed, but Jaime Busto - Gas Gas repeated his qualification victory of twelve months ago at Camprodon in Spain today and he will start tomorrow's opening round of the 2018 FIM Trial World Championship with the huge advantage of being at the back of the TrialGP field.

"I'm very happy with today's qualification section," says Busto. "I think I will have a big advantage tomorrow because it will be slippery so it's good to start at the back."

This year there are two qualification sessions. Riders are balloted for starting positions for Q1 and their results in this then determine the running order for Q2 with the second timed attempt deciding where they begin in the main competition.

The natural section on a steep, rocky and wooded hillside threw up plenty of surprises in the first qualifying session with defending champion Toni Bou - Repsol Honda sitting pretty on home turf ahead of his compatriot Adam Raga - TRRS and Britain's James Dabill - Beta before a last-gasp run by Albert Cabestany - Beta put the thirty-seven-year-old Spaniard on pole heading into Q2.

In the ninety-minute interval between Q1 and Q2 the heavens opened, making what was already a tough test of skill even tougher as the rich, red mud was dragged onto the rocks to ensure grip was at a premium. A stray dab had proved expensive for home hero Busto in Q1, but starting Q2 as fifth rider away he made no mistakes to charge through the section in a time of 0:29.78. Staying feet-up is the first objective as scores count before times and two-time World Champion Raga was as precise as ever as he went clean in 0:30.58 to move into second, but a single penalty dropped Dabill down the running order to twelfth which means he will begin fourth tomorrow.
Bou starts favourite at every event he contests, but even the eleven-time World Champion - who is going for his twelfth consecutive title in 2018 - is not immune to pressure and a mistake on the almost sheer downhill part of the section saw him drop a mark which puts him fifth man away tomorrow after he finished eleventh in Q2, but the drama did not end there. Cabestany, negotiating the twists and turns on his unfamiliar Italian machine following thirteen years with Sherco, came out firing on all cylinders and stayed clean with his time of 0:30.20 earning him a strong second place.

In Trial2 it was the experienced Loris Gubian - Gas Gas who came out on top against a field of hungry young talent. The twenty-nine-year-old Frenchman - who has dropped down to the class from TrialGP - trailed veteran Italian Matteo Grattarola - Honda, another rider who has stepped back from the premier class for 2018, by almost half-a-second after Q1. He then made no mistakes in Q2 to finish over a second up on Spain's Marc Riba - TRRS with Britain's Toby Martyn - Montesa slotting into third ahead of Luca Petrella - TRRS from Italy and British rider Dan Peace - Gas Gas. Grattarola paid a heavy price for a lapse in concentration which saw him collect two marks and puts him in twentieth position and seventh rider away tomorrow.

Teenage sensation Hugo Dufrese - Gas Gas topped Q1 in the Trial125 class, but a single mark in Q2 put him seventh. Instead, fellow French rider Arthur Rovery - Sherco, who almost did not compete because of a knee injury, will start tomorrow's Trial at the back of the field behind Eric Miquel - TRRS and Julien Cammas - Gas Gas from France.
Images courtesy of P. Segales