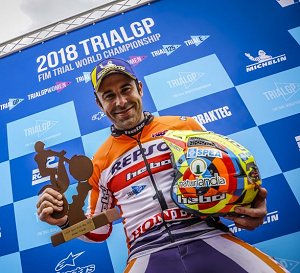 Toni Bou opened the TrialGP campaign as leader in Camprodón. Repsol Honda Team team-mate Takahisa Fujinami posted a well-deserved eighth place in spite of a nagging shoulder injury.
After yesterday's first qualifying round of the season, where Bou finished eleventh after a costly mistake; today the champion rose to the occasion and reversed his fortunes with a fine performance.
Sunday's trial over an eight-kilometre, fifteen-section course proved to be a tough ride given the weekend's weather conditions. The two laps were marked by intermittent but intense rain, with riders forced to negotiate delicately the perilously muddy conditions of the route. The difficulties brought out the best of Toni Bou whose triumph establishes him as the season's first overall leader.
The second lap saw Bou struggle through a rough patch, although the rider quickly bounced back to seal the trial victory with a seventeen-point advantage over the nearest second place rival.
Bou's Repsol Honda Team team-mate Takahisa Fujinami braved severe shoulder pain, but nevertheless managed to overcome a lack of arm movement to score an eighth place finish.
The next TrialGP World Championship round will be held at the Motegi circuit in Japan, over two days. Qualifying is scheduled for June 1st, with the main event over the two following days.
| | |
| --- | --- |
| | I am very happy for the victory because yesterday I had a pretty bad qualifying session and today I had to start among the first riders in the category. The trial was very complicated, but from the beginning I felt comfortable and I made very few mistakes. The second lap was more complicated with rain and mud, where I fived a couple of times due to lack of confidence in the terrain. Physically I felt good; on the second lap my back hurt a bit, but it was better than I had expected. It is a great start to the championship and I want to congratulate the organizers, as it has been a very complete trial with very authentic areas. |
| | Just last week we were deciding whether or not to compete in this first trial, due to my right shoulder not being at 100%. I wanted to give it a shot and that's what I did. I started well but I got more and more tired and I felt it in my back and arms. Even so, I am very happy with the result: an eighth position is very good for the championship. |