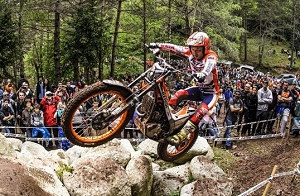 Quite possibly the most popular rider of his generation, Takahisa Fujinami - Repsol Honda is an undisputed legend of Trial and a fan favourite the World over, loved for his out-going personality, spectacular riding style and incredible longevity.

At the grand old age of thirty-eight, Fujigas - to give him his preferred nickname due to his dynamic, all-action style - is the oldest regular rider in the TrialGP class having kicked off his career in the top-flight all the way back in 1996 aged just sixteen. It has been a highly-decorated career as well with his stand-alone moment coming in 2004 when he was crowned as FIM Trial World Champion.

We caught up with Fujigas on the eve of his home round of the 2018 FIM Trial World Championship - TrialGP Japan - this coming weekend where he is aiming to draw on feverish support from his loyal fans in a bid to improve on his third place on the opening day of last year's event.

"For me Japan is a very big event and it gives me extra motivation," he says. "There I feel the love of the people - I notice it before the start and also in each section. The Japanese public want to see a home rider win and they never stop supporting. This helps me so much and encourages me to try to get the best result."

With such a long career behind him, it has only to be expected that Fuji has regrets, but all his centre around injuries that have kept him from riding at the top of his game.
"I want to forget the injuries, like the one I had to my knee which fortunately I was able to overcome. A few weeks ago in the Spanish championship I hit my arm hard and I had doubts about whether I could recover in time to start this year's championship in Camprodon."

It is amazing to think that 2018 represents the Japanese rider's twenty-second year in the highest echelons of World Trial, but after finishing fifth in 2017 he is showing no signs of slowing down.

"My first goal was to be a World champion and this I did. I thought that at 30 I would have retired, but I'm lucky that Honda and other sponsors help a lot and want it to continue. Despite my age and also the injuries my level is still good and I'm also strong to overcome them. Two years ago I finished third and last year I was fifth - how can I retire with these results?"

"At one point I thought about going to Extreme Enduro or the Dakar, but finally I decided not to. My heart is with Trial and I think that it is now too late to jump to another specialty."

Once again, Fujigas will take centre stage at this weekend's TrialGP Japan.