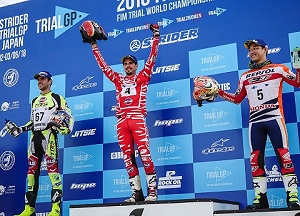 Jeroni Fajardo has waited nine years for this moment
Image courtesy of Makoto SugitaniSpain's Jeroni Fajardo - Gas Gas turned round two of the 2018 FIM Trial World Championship on its head with a stunning victory in the premier TrialGP class, but it was business as usual for Emma Bristow - Sherco in TrialGP Women after a dramatic opening day of TrialGP Japan at the Twin Ring Motegi circuit.
Fajardo was in simply sensational form to record a clean opening lap which was eight marks better than next-best Takahisa Fujinami - Repsol Honda and an amazing eighteen ahead of the Spanish pairing of reigning World Champion Toni Bou - Repsol Honda and Adam Raga - TRRS.Forced to ride at the front of the field all day following his calamitous Q2 session yesterday, the thirty-two-year-old took full advantage of the early dry, grippy conditions. Even when he went slightly off the boil on lap two to add eleven to his total the damage to the rest of the field had been done and he held his nerve to take his first TrialGP win since 2009.
"I cannot believe what has happened today," says Fajardo. "I was riding amazing after my problem yesterday in Qualifying. I knew I could do it, but it is very easy to make a mistake. My first lap was incredible and lap two was still okay because I only made mistakes in the most difficult sections. It's been an amazing day for me."
Raga made amends for his disappointing performance at the opening round of the championship two weeks earlier and recovered to grab the runner-up position with a second lap total of five as Fujigas just held on for an emotional home podium in third on twenty-eight despite a couple of late maximums. Bou appeared to struggle on the huge rocks and scarily-steep wooded hillsides and despite closing in on his team-mate on lap two he ended the day a further two marks back.
Yesterday's Q2 winner Jaime Busto - Gas Gas paid the price for his expensive opening lap total of twenty-five. The young Spaniard, who was runner-up at round one, fought back with a second lap total of ten but it was only good enough for fifth. There was a gap of nine marks back to sixth-placed Jorge Casales - Vertigo from Spain with his fellow countryman Albert Cabestany - Beta taking seventh on forty-six on a tie-break from Britain's James Dabill - Beta with veteran Japanese rider Kenichi Kuroyama - Yamaha and Miquel Gelabert - Sherco from Spain rounding out the top ten.
The reigning TrialGP Women World Champion, Bristow went toe-to-toe with her Spanish rival Sandra Gomez - Gas Gas on the opening lap as they gapped the field by a big margin to go into lap two on five marks each.
On the second lap the British rider, who's bidding for her fifth consecutive title, showed her class to add just two to her total as Gomez crumbled under the pressure and dropped a further fifteen. "I was a bit shaky to begin with which you can see in the results and took a few dabs I didn't need," says Bristow. "It was much more low-scoring than we thought it would be so it got tight at one stage, but I stayed strong and believed in myself." Spain's Berta Abellen - Vertigo was third on twenty-eight ahead of Germany's Theresa Bauml - Montesa on thirty-four and Norwegian Ingveig Hakonsen - TRRS on thirty-six.
There was a fantastic photo-finish in Trial2 where Dan Peace - Gas Gas fell from first to third on the final section of the Trial. The British rider had shared the lead following lap one with veteran Matteo Grattarola - Honda after both riders parted with a miserly two marks. A more expensive second lap for the leading pair allowed Britain's Toby Martyn - Montesa, who was riding out of his skin after dropping eight on lap one, to close dramatically and with Peace on nine, Martyn on ten and Grattarola on twelve it all boiled down to section fifteen. Peace, following a long and nervous wait to ride the section, faltered and took a three as round one winner Grattarola went clean and Martyn needed a single dab to snatch a last-gasp one-mark victory with his compatriot losing second to the Italian on a most-cleans tie-break. Such is the competitive nature of this cl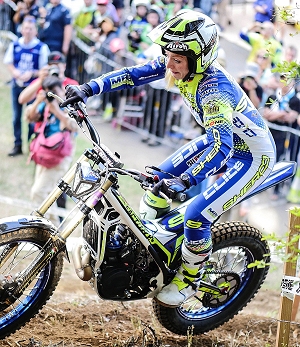 It was the perfect start for reigning Women's World Champion, Emma Bristow
Image courtesy of Makoto Sugitaniass and the strength in depth of the field, highly-fancied riders including the Spanish trio of Gabriel Marcelli - Montesa, Francesc Moret - Montesa and Marc Riba - TRRS all found themselves struggling to make an impact.
Victory in Trial2 Women went to sixteen-year-old Italian Alex Brancati - Beta by a comfortable nine-mark margin with her final total of sixteen too good for even Maddie Hoover - Gas Gas who had topped yesterday's Qualification session. Mona Pekarek - Sherco from Germany was two marks behind the American in third to snatch a podium finish from her compatriot Sophia Ter Jung - Beta who led at the halfway stage before suffering a disastrous second lap.
Spain's Martin Riobo - Gas Gas claimed a two-mark victory in the Trial125 class from French pocket rocket Hugo Dufrese - Gas Gas with a total score of seven. Spain's Pablo Suarez - Gas Gas was a further two behind as the Spanish manufacturer swept the podium. Spaniard Eric Miquel - TRRS missed out on third on a tie-break and Britain's Billy Green - Beta, a comfortable winner of the series opener in Spain, slipped to fifth with an unlucky-for-him total of thirteen.
Tomorrow will see the day two of TrialGP Japan, with much more action and intrigue in store.
Results
pdf Download Full TrialGP Results (345 KB)
pdf Download Full Trial2 Results (352 KB)
pdf Download Full Trial125 Results (348 KB)
pdf Download Full Womens TrialGP Results (346 KB)
pdf Download Full Womens Trial2 Results (347 KB)
Images: P. Segales