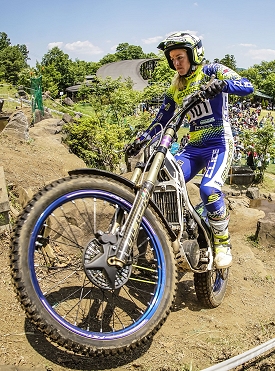 Fresh from her back-to-back wins at the opening round of the TrialGP Women's series in Japan the defending FIM Women's Trial World Champion Emma Bristow - Sherco has taken the brave decision to compete directly against her male counterparts this coming weekend at TrialGP Andorra.
With the Sherco factory having initially proposed the idea, twenty-seven-year-old Bristow seized the invitation and submitted a last minute request to be approved by both the FIM and the promoter Sport7 as a wildcard entrant. Given Emma's outstanding ability and that she has faired well competing against men in events such as the Scottish Six Days Trial, both parties immediately accepted her application. Not since the then FIM Women's Trial World Champion Laia Sanz competed in what was known as the FIM Junior Trial World Cup back in 2011 has the series witnessed the current top lady pitting her skills against male rivals. Bristow will use a 250cc machine in Andorra with her more familiar 300cc stroke Sherco not being eligible for the Trial2 class.
Speaking about this latest challenge, Emma said. "It came as quite a surprise, but as soon as Sherco suggested the idea I jumped at the chance. I would like to thank both the FIM and Sport7 for reacting so quickly to my request and for giving me this great opportunity. I know it is going to be tough as there are so many good riders in Trial2, but having watched some videos I am happy that most of the sections should be within my capability. I am most nervous about qualification as there will be a lot of attention on me, but once that is out of the way I am really looking forward to the challenge. Hopefully I can put together some good rides and get a respectable result not only for me but for Women's Trial in general."