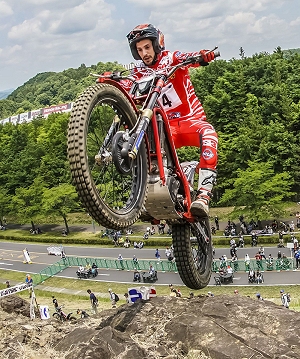 Currently second in the 2018 TrialGP series Spain's Jeroni Fajardo - Gas Gas has emerged as a real title challenger, so what do we know of the now thirty-three year old? Jeroni can trace his love of Trial precisely back to February 1989 when, aged just three years old, his father took him to watch a round of the Spanish Trial Championship near his home in Pals in the North East of the country where he saw the legendary Jordi Tarres in action. In common with so many of his fellow Spanish riders, his first taste of competition was riding bike-trial where he won two World titles. His undisputed talent was clear for all to see and inevitably he exchanged pedals for petrol, but it was not until 2003 before he graduated to the highest echelons of the TrialGP class.
Jeroni's always been a fierce competitor and a highly-skilled rider, but up until this season his sole TrialGP victory had come in Andorra all the way back in 2009. That all changed on the opening day of this year's TrialGP Japan - round two of the 2018 FIM Trial World Championship - where after a clean opening lap that was nothing short of sensational he kept his cool to win on a score of just eleven, less than half that of Adam Raga - TRRS and an incredible nineteen ahead of reigning champion Toni Bou - Repsol Honda.
Fajardo, who moved Vertigo to Gas Gas at the end of last year, was World number four in 2017 - and has been ranked as high as third in 2012, 2013 and 2015 - but the result still came as a surprise. Yes, he had finished third at the opening round at Camprodon in Spain the previous month, but the Girona-born rider had been thirty-two marks behind Bou on that occasion, yet here he was - less than two weeks later - demolishing the eleven-time champion. It could be argues that it was purely down to good fortune, but there was nothing lucky about a clean opening lap that claimed eighteen marks from both Bou and Raga who, between them, have won the TrialGP title for the last thirteen years.

Jeroni slipped to fourth on day two in Japan, but two weeks later he was back up front again - this time leading Bou into the final section of TrialGP Andorra which should have been a formality having been cleaned by every rider in the top seven on the opening lap. Whether it was down to the pressure of knowing he was one clean away from the FIM Trial World Championship lead or just a momentarily lapse in concentration, but Jeroni recorded a maximum that dropped him to third. As bitter a blow as it surely was, he will head into TrialGP Portugal this coming weekend with his confidence at an all-time high knowing if he can hold his nerve and ride at his very highest level then he potentially has what it takes to dethrone Bou and end his compatriot's dream of twelve consecutive titles.