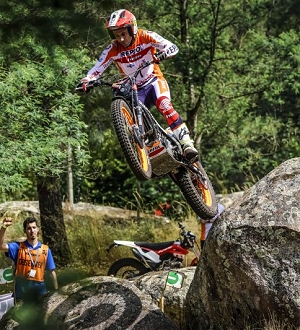 In Gouveia, Portugal the Repsol Honda Team rider Toni Bou set yet another new record in the FIM Trial World Championship as he clocked up his 100th victory. Bou also established a 50% win ratio on the same day as reaching the new milestone of a 200th championship appearance. The triumph of Toni Bou in Portugal was far from just going through the motions, but represents another career high-point for the Repsol Honda Team rider. The champion managed to break the record for number of victories in world championship trials, as he surpasses the long-established record of Dougie Lampkin with 99 wins. The Barcelona rider continues to write history.
The trial of Gouveia, in Portugal, the fourth round of the TrialGP World Championship, was a particularly tough one: competitors faced scorching temperatures, sections with steep climbs that demanded both superb physical form and impeccable technique amid some of the complicated sections set in the granite of the Nuestra Señora Los Verdes Park. The current world champion had virtually finished off the competition on the first lap with an exceptional ascent in section ten, where Bou became the sole competitor to overcome the vertical step. Completing the first lap with just a single penalty point ahead of the nine of the nearest second place rival, effectively sealed the victory. The rider went on to extend the lead on lap two to finish with a twelve point margin. This marks the third victory for Toni Bou this season and stretches the lead in the overall standings to ten points ahead of the second placed rider.
Bou's companion in the Repsol Honda Team, Takahisa Fujinami, suffered in the demanding areas, but kept the scorecard low enough on the first lap to remain in the top ten. In the second, with a very small margin separating the elite riders, Fujigas improved to be able to finally post eighth place.
With the 100th victory out of 200 participations, Bou also accumulates 145 podium places in the world championship. The Spaniard remains the only rider to achieve a 50% victory record in the sport's highest category. Takahisa Fujinami remains the rider with the highest number of participations, 326, as well as the competitor to have accrued the highest number of points in the contest.
| | |
| --- | --- |
| | I am very happy: I would never have imagined getting here. I didn't know about the 200 GPs, I don't usually get hung up on the numbers, but I am very excited to reach 100 victories, but even more to find out that I have won 50%, which I think is an incredible achievement. Today I felt very good about the injury, every day I am better, so I am very happy. We had to push hard today as the rivals are very strong. We will continue fighting hard in this complicated championship. |
| | Today was a very tough day for us: we did not get things right. After the first lap the classification was very tight, as it really was very difficult. We will continue working towards the next trial and I want to congratulate Toni for the 100 victories. I am very happy for him and for the whole team |