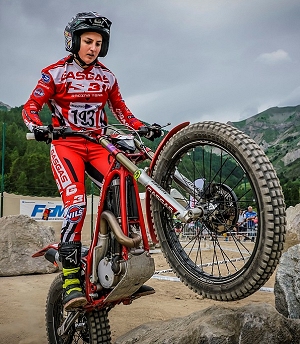 While Toni Bou topped the Men's premier class, it was Sandra Gomez who ran fastest in the Women's TrialGPToni Bou - Repsol Honda was at his brilliant best in qualification this afternoon at the amazing Alpine venue of Auron where TrialGP France - round five of the 2018 FIM Trial World Championship - kicked off bathed in sunshine, but the session spelled disaster for reigning TrialGP Women champion Emma Bristow - Sherco.
The entirely man-made section comprising towering rocks on a loose and slippery gravel surface with different routes depending on class drew a big crowd of enthusiastic onlookers. While the sensational Spaniard - who is gunning for his twelfth-straight FIM Trial World Championship this season - was perfection personified, Bristow took an uncharacteristic maximum as Sandra Gomez - Gas Gas made it a double celebration for Spain.
With qualification determining the all-important starting order for the following day's points-paying competition a good result is vital and Bou - who leads the premier TrialGP championship by ten points - demonstrated complete mastery.
"It was very fast and I took a few risks to get pole as it was very slippery in the corners," said Bou. "I think it's very important to start in last position tomorrow to look at other riders and other lines and I am happy for this."
After the Q1 session, designed to decide starting order for Q2, most of the TrialGP big guns were up front apart from Spain's Jaime Busto - Gas Gas who was back in tenth after dropping a single mark at his first attempt.
This meant Busto - who is currently third in the championship - was fifth man to go from the fourteen-rider elite field in Q2, but this time he stayed feet-up to lead until the all-action Japanese rider Takahisa Fujinami - Repsol Honda, who started fourth from last, snipped 0.29 off his time. Spain's Jeroni Fajardo - Gas Gas, who is currently second in the championship, was next and he went clean in a faster time to depose Fujigas before James Dabill - Beta, a man who is never scared to hang it out in qualification, fired through the section. The Brit's full-bore attack appeared to have ended in disaster when he took out a course-marker just feet from the end, but he was adjudged to have already broken the final timing beam which gave him the lead. It was all in vain though because Bou, the last man away, was in a different league as he skipped his four-stroke across the boulders to lay down a time over one-and-a-half seconds quicker than Dabill. Spain's two-time World Champion Adam Raga - TRRS, who is fourth in the title fight, took a more cautious approach to finish eighth, but his compatriot Albert Cabestany - Beta recorded one of only two maximums and will be second away tomorrow.
Perhaps the biggest shock of Q2 was Bristow's error which will see her start sixth out of the eleven-rider TrialGP Women field. Instead, Gomez will be last away after she recorded a comprehensive win with her time almost three seconds faster than Germany's Theresa Bauml - Montesa with Norwegian Huldeborg Barkved - Gas Gas in third. "I enjoy qualification - I like to be fast so I have fun," said Gomez, who also took Q2 victory at the opening TrialGP Women round in Japan at the start of June. "It's important and it's a good feeling for tomorrow. It's always good to be the winner." The Spanish pairing of Neus Murcia - Beta and Maria Giro - Montesa were fourth and fifth ahead of Bristow who can take some comfort from the fact that her closest championship rival Berta Abellan - Vertigo from Spain also took a maximum and will start three places ahead of her tomorrow.
Trial2 series leader Matteo Grattarola - Honda had dominated the class until the previous round in Portugal where he finished a disastrous tenth and after ending Q1 down in fifteenth it looked as though his dip in form had continued into France. However, the thirty-year-old Italian made no mistakes in Q2 and ran out almost a second clear of his closest championship rival Toby Martyn - Montesa from Britain. Italy's Luca Petrella - TRRS was third ahead of Norwegian Hakon Pedersen - Gas Gas and Spain's Francesc Moret - Montesa. In the closely-fought contest Gabriel Marcelli - Montesa from Spain, who is third in the championship, was pushed back to sixth as seventeen riders out of the twenty-two-man field went clean.
Norway's Erika Melchior - Sherco was over a second clear of second-placed Sophia Ter Jung - TRRS from Germany to win Trial2 Women with home heroine Caroline Moreon - Sherco in third. Italy's Alex Brancati - Beta, a double winner at the opening round in Japan, comfortably won Q1, but a stray dab at her second attempt proved expensive and she will be fifth rider away tomorrow. It was even worse for America's Maddie Hoover - Gas Gas who recorded two runner-up finishes at TrialGP Japan and her two marks lost in Q2 mean she'll be the third rider in the fourteen-strong field to start tomorrow.
Veteran Japanese rider Kenichi Kuroyama - Yamaha topped the TrialE class after home favourite Loris Gubian - Gas Gas collected a surprise maximum following his winning Q1 run. France's Christophe Bruand - Electric Motion, who had a five in Q1, kicked off the Q2 session and was leading until thirty-nine-year-old Kuroyama - who was seventh of the eight riders to go - knocked over a second off his time.
All five classes will complete two laps of fifteen sections in the French ski resort tomorrow for the Trial proper.
Images: P.Segales