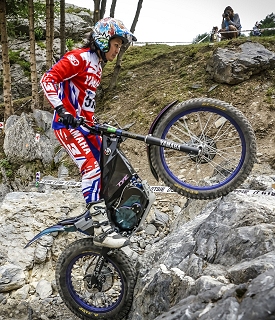 Flamboyant veteran, Kenichi Kuroyama took the win in the first round of the TrialE Cup on the Yamaha prototypeThe all-conquering Toni Bou - Repsol Honda continued his march towards a twelfth-straight outdoor World title with a close-fought win at today's TrialGP France - round five of the 2018 FIM Trial World Championship - at the Alpine ski resort of Auron. The Spanish superstar was pushed hard by his compatriot Jeroni Fajardo - Gas Gas for most of the Trial before pulling clear in the closing stages. The victory, his fourth of the season, ties him with legendary Belgian motocross racer Stefan Everts on a total of one-hundred-and-one Grand Prix wins. "I feel incredible because it was a nice fight with Jeroni who was riding amazing today," said Bou. "It was very close after the first lap, but I finally took the victory with a clean in section twelve. It is very important for me and very important for the championship."
Despite an early threat of rain that would have dramatically altered the complexion of the Trial, the two laps of fifteen sections were tackled in sunny conditions with the majority of hazards split between rounded boulders in a dry riverbed and more angular rocks on the side of a steep, wooded hill. It was Fajardo who took an early lead when Bou lost a mark on section four, but the reigning champion was back in front by section nine. With the entire field taking maximums on sections eleven and twelve on the opening lap, at the halfway stage Bou led on thirteen marks, three ahead of Fajardo who in turn was nine in front of third-placed Takahisa Fujinami - Repsol Honda from Japan. With lap two cut to fourteen sections after a rock shifted on section ten, the leading pair remained locked together until they visited section twelve for the final time. Bou produced a miraculous clean, Fajardo took a maximum and it was game over with Bou's total of twenty giving him a seven-mark winning margin.
A string of fives on the opening lap put Jaime Busto - Gas Gas back in fourth but the twenty-year-old picked up the pace on lap two with a series of solid performances - including the only clean ride of the Trial on section eleven - to take third on thirty-eight, two marks ahead of fellow Spaniard Adam Raga - TRRS. Championship runner-up for the last eleven years, Raga also had an expensive first lap, but improved dramatically on his second visit to the sections to end the day nine marks ahead of Fujigas with Albert Cabestany - Beta a further seven marks back in sixth. For the first time this season Jack Price - Gas Gas came out on top in the battle to be best British rider in tenth after James Dabill - Beta slumped to twelfth. With three rounds to go Bou now leads Fajardo by thirteen points with Busto another six in arrears. Raga is fourth a further thirteen points behind.
Emma Bristow - Sherco took another giant leap towards her fifth consecutive FIM Women's Trial World Championship title with a commanding win in the TrialGP Women class to go with her double victory in Japan at the start of June when the female competition got under way. "I felt quite good on the bike this morning," said Bristow. "I had a good warm-up and was ready for it. There was the one section that got me both laps, which I'm a bit frustrated about but the championship is looking really good so I'm happy." A nervous maximum in Q2 did not give the twenty-seven-year-old an ideal starting position, but as we've seen so many times before when she's on top of her game she's unbeatable. Despite a five on the steep banking of section eleven which took maximums from the entire field on both visits apart from Spain's Sandra Gomez - Gas Gas who recorded an incredible one-mark ride on the first lap, at the halfway stage Bristow led on eight from Neus Murcia - Beta from Spain who was on fourteen with Gomez on sixteen. Bristow then showed her class with a lap-two score of seven for a total of fifteen that was half the final score of second-placed Murcia who ended the day one mark ahead of Gomez. Spain's Berta Abellan - Vertigo was fourth on forty-two with Norway's Huldeborg Barkved - Gas Gas the best of the rest on sixty.
With just one round to go - TrialGP of Great Britain at the beginning of September - Bristow leads Abellan by seventeen points and is an odds-on favourite to make it a famous five titles on the trot with the added bonus of being crowned at her home round.
In the fiercely-contested and low-scoring Trial2 class, Britain's Toby Martyn - Montesa showed he has got nerves of steel to take an important victory and close to within a single point of series leader Matteo Grattarola - Honda from Italy. Following an incredibly tense opening lap it was Aniol Gelabert - Scorpa from Spain who led on two ahead of Martyn and Grattarola on three and Gabriel Marcelli - Montesa from Spain and Jack Peace - Gas Gas from Britain on four. With the pressure mounting Martyn kept his cool and after matching his first-lap total it was the seventeen-year-old who came out on top with a two-mark advantage over Marcelli who snatched the second spot on the podium from Peace on a most-ones tie-break. Peace's older brother and team-mate Dan produced a second-lap total of just two to take fourth on nine with Gelabert slipping to fifth on eleven. A couple of maximums on lap two dropped Grattarola back to sixth on fourteen. After winning three out of the first four days of competition - and following his tenth-placed finish last time out in Portugal - his lead has been slashed by Martyn from eighteen points to just one and Marcelli is only five further back in third.
Italy's Alex Brancati - Beta was a double winner at the Trial2 Women season-opener in Japan and the talented sixteen-year-old did it again today with a commanding victory over Norwegian Erika Melchior - Sherco. Brancati got her worst score out of the way early with a three on the opening section of lap one and from then on quickly found her groove, dropping only two further marks to end the day on five. Melchior was in touch at the halfway stage with her first-lap score of seven placing her just three marks behind, but an expensive lap-two total of eighteen pushed her up to twenty-five. America's Maddie Hoover - Gas Gas, who took a pair of runner-up finishes in Japan, was a further six marks off the pace in third, but still twelve ahead of fourth-placed Marine Aurieres - Gas Gas from France and fourteen in front of Britain's Alicia Robinson - Beta who finished fifth. The German pairing of Sophia Ter Jung - Beta and Mona Pekarek - Sherco, who had been tied on points in third and fourth after TrialGP Japan, both struggled with Ter Jung ending the day in sixth and Pekarek in eighth. As a result, Melchior moves past them both in the championship standings.
Competing on home soil, FIM TrialE Cup pre-event favourite Loris Gubian - Gas Gas threw away his chances of victory on the very first section of the Trial when he got it all wrong and dropped three marks straight off the bat. By contrast, Japanese veteran Kenichi Kuroyama - Yamaha recorded a clean opening lap and although Gubian only added a further mark to his total with a dab on lap two the damage had been done. Kuroyama, debuting the Japanese giant's exciting prototype electric motorcycle, parted with just a couple of marks on his second lap to win on a total of two with France's Christophe Bruand - Electric Motion, who had impressed in yesterday's Q2 session, in third on eleven. Japan's Takumi Narita - Electric Motion was a non-starter after aggravating an existing back injury. With the second and final round of the TrialE Cup next weekend at TrialGP Belgium there is another chance for Gubian to claim victory, but he cannot afford to be caught cold again. The TrialGP and Trial2 classes will also be back in action in Comblain au Pont in six days time.
pdf Download Full TrialGP Results (344 KB)
pdf Download Full Trial2 Results (349 KB)
pdf Download Full TrialE Cup Results (233 KB)
All Series Results & Championship Standings
pdf Downlod Full Womens TrialGP Results (344 KB)
pdf Downlod Full Womens Trial2 Results (349 KB)
All Womens Series Results & Championship Standings
Images: P. Segales