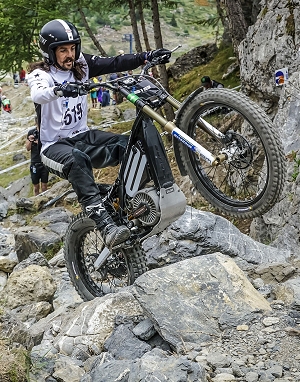 The electric bikes will be back in action in Belgium for the second and final round of their 2018 competitionToni Bou - Repsol Honda sets new records virtually every time he rides and this weekend's TrialGP Belgium - round six of the 2018 FIM Trial World Championship - at Comblain au Pont gives him the opportunity to set another benchmark in motorcycle sport.With one-hundred-and-one Grand Prix victories to his name so far, a win this weekend will see the Spanish superstar surpass the incredible career total of Belgian Motocross legend Stefan Everts and elevate him to the status of most successful off-road motorcyclist of all time. Of course, with his eleven TrialGP crowns Bou already has more World Championship titles than ten-time champion Everts, but to overtake him in the all-time GP win-list will be the icing on the cake of a highly-decorated career that shows no signs of stopping anytime soon. "Things are going very well so far, but we cannot stop working and must continue along the same lines if we want to achieve our goal," says Bou. "In Andorra, Portugal and last weekend in France we were able to win, but it was by no means easy. I am sure that in Belgium we will have a complicated Trial with some rivals who, as we have seen, do not give up easily."
So who are these rivals who are going to take the fight to Bou - who leads by thirteen points - in Belgium? They are queuing up, but the formbook suggests that Jeroni Fajardo - Gas Gas is the most likely candidate. The thirty-three-year-old Catalan handed Bou a rare defeat on the opening day at TrialGP Japan, came within a few feet of doing the same at TrialGP Andorra before a maximum on the very last section of the day dropped him to third and has been runner-up at the last two rounds. Next on the list is Jaime Busto - Gas Gas. The twenty-year-old Spaniard has also beaten the defending champion this season with a career-first victory on day two in Japan, but ever since he has been playing catch-up to his more experienced team-mate Fajardo. Then we have Adam Raga - TRRS. Runner-up to Bou for the last eleven years, it is fair to say that the two-time World Champion has under-performed so far this season. The Spaniard finished second to Bou on the two previous occasions the Trial World Championship has visited Comblain au Pont in 2014 and 2016 so we know he feels at home on the steep climbs and rocks the venue has to offer, but he needs to raise his game.
In 2017 Spain's Albert Cabestany - Beta dropped out of the World top five for the first time in fourteen years, but a change of machinery has rejuvenated the thirty-eight-year-old. A strong second in Andorra, Cabestany will be hoping to spring a surprise and go one better in Belgium. Currently sixth in the title fight, Jorge Casales - Vertigo was just one mark away from a podium finish at the season-opener at Camprodon in his native Spain, but has not threatened to produce a top-three finish since. Japan's Takahisa Fujinami - Repsol Honda did claim a podium with third on day one at his home round, but the 2004 World Champion has struggled with consistency and the same can be said for Britain's James Dabill - Beta who lies eighth in the points table.
The Trial2 class is also in action this coming weekend and it is currently too close to call with early-season pace-setter Matteo Grattorola - Honda, who won three out of the first four days of competition, being reeled in at an alarming rate by Britain's Toby Martyn - Montesa. The veteran Italian had led by eighteen points following TrialGP Andorra, but poor back-to-back finishes in Portugal and France have seen his advantage slashed to just one point. Spain's Gabriel Marcelli - Montesa has yet to take a win this year, but his consistency places him third ahead of Dan Peace - Gas Gas who won in Portugal and the British rider's younger brother and team-mate Jack.
The two-round FIM TrialE Cup concludes this weekend with Japanese former TrialGP contender Kenichi Kuroyama - Yamaha leading from the French pairing of Loris Gubian - Gas Gas and Christophe Bruand - Electric Motion.