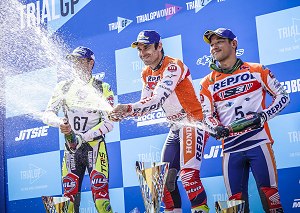 Defending champion Toni Bou - Repsol Honda claimed victory at today's TrialGP Belgium - round six of the 2018 FIM Trial World Championship - at Comblain au Pont as Britain's Toby Martyn - Montesa snatched the Trial2 championship lead and Frenchman Loris Gubian - Gas Gas clinched the TrialE Cup for electric motorcycles. Bou's fourth win in a row stretches his lead to a very healthy twenty-three points with just two rounds now standing between him and a record-breaking twelfth consecutive World Championship crown. "It has been a very special weekend," said Bou. "I had a crash in the morning yesterday and my condition this morning was not very good, but after section four or five I rode with more confidence and to finally win makes it a perfect weekend."
In hot, dry conditions grip was at a premium on sections that comprised huge, dusty rock steps and perilous loose climbs, mainly laid out in a quarry and on near vertical banks on a wooded hillside overlooking the town. The fifth rider away after his mistake in yesterday's Q2 session, Bou had a shaky start to the event and dropped five marks on the first four sections before regaining his composure. However, he still incurred two maximums - including a five on section thirteen that stopped everyone on the opening lap - as he reached the halfway point of the Trial on a total of twenty.
Next best after the opening lap was Bou's fellow Spaniard Adam Raga - TRRS on thirty-one who in turn was one mark ahead of his compatriot Jaime Busto - Gas Gas. At this point it looked as though Bou was cruising to yet another win, but after struggling to find his form all season Raga strung together a series of impressive rides. Successive maximums by Bou on sections six and seven where Raga recorded a pair of single-dab rides narrowed the gap dramatically and led to a tense run-in to the finish with Bou's total of forty-two - equalling his highest score of the season - plus one time penalty giving him just a four-mark advantage at the close.
Japanese fan favourite Takahisa Fujinami - Repsol Honda claimed a hugely popular podium finish in third, aided by a sensational single-dab ride in section thirteen, to end the day twelve marks adrift of Raga and four ahead of Busto who incurred four expensive time penalties. Britain's James Dabill - Beta finished a season-best fifth on seventy with championship challenger Jeroni Fajardo - Gas Gas from Spain slipping to sixth a further six marks back. Despite this he still holds second in the title chase, but is now just a single point ahead of Busto.
Defying the pain from a recently dislocated left shoulder, Trial2 contender Toby Martyn - Montesa claimed a one-mark victory over Matteo Grattarola - Honda and in doing so moves ahead of the veteran Italian into a two-point series lead. Grattarola - who has led the championship since the opening round at Camprodon in Spain in May - dominated the opening lap, parting with a miserly four marks compared to Martyn who was next best on twelve. The British teenager then staged an incredible comeback, dropping just six single dabs on his second visit to the sections as Grattarola hit the self-destruct button with three fives in the first half of lap two. "I was determined not to let my shoulder injury cost me today," said Martyn. "I got the win so I'm very happy. It will be mega going into my home event with the championship lead - I just need to keep it together for the last two rounds and get the job done." Spain's Francesc Moret - Montesa was one mark further back to complete a four-stroke clean-sweep of the podium positions with his best finish of the season followed by Luca Petrella - TRRS from Italy. Gabriel Marcelli - Montesa, who began the day just five points from the championship lead, lost ground in fifth. The eighteen-year-old Spaniard - who was second in 2017 - dropped a disastrous twenty-four on his opening lap, but recovered brilliantly with a sensational lap-two total of just three.
Pre-season TrialE Cup favourite Gubian, who was on the back foot after being narrowly beaten by Kenichi Kuroyama - Yamaha at last weekend's opening round in France, came out fighting and led the veteran Japanese rider by three marks after a low-scoring opening lap. A maximum on the first section of lap two handed the advantage back to Kuroyama, but then he in turn had a five in section two. From there it was a tense final thirteen sections with both riders adding just one extra mark to their scores as Gubian won on a total of ten. The result gives him victory in the two-round series on a tie-break and ensures the Spanish manufacturer retains the title it won last year with Marc Colomer. "There was big pressure because the title would be decided today between Kenichi and me," said Gubian. "Finally I won so it has been very good for me and for Gas Gas - we have worked very hard and I am very happy with my bike."
Spain's Joan Cordon - Mecatecno completed the podium with a final score of twenty-eight, nine fewer than France's Christophe Bruand - Electric Motion who ends the series in third.
The TrialGP series now takes its August holiday and will resume in September for the final two rounds, starting with TrialGP Great Britain on the 1st / 2nd.
pdf Download Full TrialGP Results (344 KB)
pdf Download Full Trial2 Results (350 KB)
pdf Download Full TrialE Results (234 KB)
All Series Results & Championship Standings
Images: P. Segales