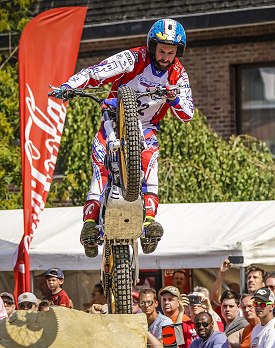 Home hopes at TrialGP Great Britain, round seven of the 2018 FIM Trial World Championship scheduled for Silsden on 1st / 2nd September, rest firmly on the broad shoulders of James Dabill. Britain's undisputed number one rider in the premier TrialGP class, James grew up just twenty minutes down the road from the event's base at Addingham Moorside and he is aiming to put his intimate knowledge of the venue to good use. "That's where I learned all the tricks of my trade," he said. "As a kid I used to ride there quite often and then when I started riding professionally I was probably up there three days a week so I can't wait to get back. It's always good to ride a home GP, especially if it's local as well. I spent many years in the Yeadon Guiseley club and made a lot of good friends who will be turning out to support me alongside my family."
At thirty-two years old James is one of the most experienced riders in the field having made his debut in the premier TrialGP class all the way back in 2005. For 2018 he returned to Beta after a season with Gas Gas and two years riding for the Vertigo factory and the initial signs were good with a fantastic third-placed finish at round two of the FIM X-Trial World Championship in Montpellier. He is also unbeaten in this year's ACU British Trial Championship, but James freely admits that he has not set the World on fire in TrialGP in 2018. "My season's been average so far. The beginning of last year I set off mega - especially Japan - and I tried to build on that and had quite a few top fives and then finished off strong in Italy. I was fighting for the podium quite often and I think I've been there or thereabouts this time bar a few rounds, but I've just missed out. I've been riding alright and at times I've been riding very well - the results haven't always shown this, but there's no margin for error at this level and one or two mistakes and you're done. It's the difference between being on the podium and finishing sixth. It doesn't take much. I had my best result of the year last time out in Belgium so the plan is to try and keep building on that. I've not been doing a lot of riding recently with the summer break so hopefully I'll be relaxed and more motivated. I know I can be up there every week, I just need all the pieces of the puzzle to come together."
Home support could be the deciding factor at TrialGP Great Britain and James is hoping a big turn-out of fans will give him the lift that could make all the difference. "When you're competing at home you always put in just that little bit more effort, but it can work both ways. If everything's going well then home support definitely lifts and inspires you, but if you're not then there's extra pressure. It comes down to how you deal with it I guess. Hopefully I'll set off rolling early on and use the home support to give me that extra edge."
Nowhere will home support be more important than at Saturday's qualification section that decides starting order for Sunday's points-paying main event. Since the new format was introduced at the start of 2017 James has emerged as a specialist with two wins and eleven top-three finishes to his name and he will be going all-out to replicate his victory at TrialGP Belgium in July. "I've kind of got that 'hero or zero' mentality in qualification. I just go for it and see what happens and what will be will be, but I enjoy it because you have to push your limits to be as quick as you can and stay clean. It builds a great atmosphere and it's good for the fans - it's a bit of a buzz."
Advance discounted ticket sales - www.trialgp.com - close this Thursday 24th August. Tickets will also be available on the gate throughout the weekend.