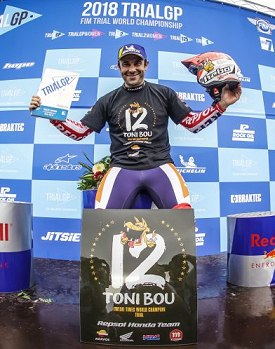 Repsol Honda Trial Team ace, Toni Bou sealed the 2018 TrialGP World Championship title this weekend with the season not yet over. Bou, who won the trial in Great Britain, takes his tally of consecutive championship wins to twelve in TrialGP, added to the twelve in X-Trial (indoor). The twenty-four back-to-back titles mark the greatest achievement in motorcycling history.
Bou didn't technically need the win in Silsden to be proclaimed champion, but the Repsol Honda Team rider nevertheless went all out to take the new world title in style. On the day, Bou took control of the terrain and finished off the competition over the final sections of the course to mathematically seal top championship honours.
Team-mate Takahisa Fujinami came close, once again to a podium spot. At the end of the first lap the Japanese rider held second. Looking very at ease throughout the day, the rider made a costly mistake in a section which other rivals had zeroed, meaning the veteran narrowly missed out on a place on the rostrum.
Toni's title was a cause for celebration, not only for Repsol Honda Team today. The team also scooped the manufacturers' title with Montesa. This is the twentieth world trial title for the Spanish constructor. The next trial for Repsol Honda Team will be the final round of the TrialGP World Championship, scheduled to take place on 15th and 16th September in Pietramurata, Italy.
| | |
| --- | --- |
| | Today was a very special day. We knew that this race would not be easy and that no mistakes could be made. They marked me a very strict five in section seven that forced me to fight hard for the rest of the trial. The end was very tight because with five points more I would have ended up in sixth or seventh place, but I stayed out of trouble and was able to win. There was a lot of nerves and a lot of pressure, but there is nothing better than winning the world championship with a victory. We are very happy because it has been a very difficult year due to injuries. Now it's time to enjoy it with the team. |
| | It wasn't a bad day: on the first lap I was second and I knew that I had chances to get on the podium along with Toni. But I fived early on the second lap in sections five and twelve, areas that my opponents cleaned, which penalized me. I am very happy with the sensations and the results of these three most recent trial in which I have been in the running for the podium. I'm really looking forward to Italy's trial to see if I can get another podium and finish off the season on a high. I want to congratulate Toni Bou for his 24th world title - it's amazing what he does! I am very happy to be his team-mate; he's a great rider who never gives up and fights to the end. |