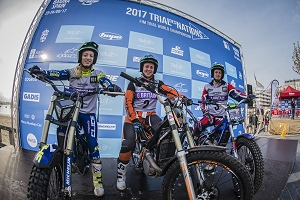 The British women's team of Emma Bristow, Jess Bown and Donna Fox will be looking to regain the title take by the Spanish girls in 2017The gloves are off for this coming weekend's Trial des Nations to be held at at Sokolov in the Czech Republic, but the question on everybody's lips remains the same as it has for the past fourteen years - can anyone beat Spain in the FIM Trial des Nations? Boasting the top-five-ranked riders on the planet following a hard-fought campaign in 2018, the Spanish remain the powerhouses of Trial and, with twelve-time World Champion Toni Bou - Repsol Honda at their helm, it is going to take a major upset to unseat them. Any nation would love the luxury of not having to select the amazingly-talented Adam Raga - TRRS or Albert Cabestany - Beta, but that is exactly what Spain can afford to do when they are able to choose Bou - the undisputed greatest rider in the history of the sport - alongside Gas Gas team-mates Jeroni Fajardo and Jaime Busto.
So, who is going to challenge them?
It is not a forgone conclusion that they will win - although between them their three-man team have won every round of the 2018 FIM Trial World Championship - and the British have to be considered as contenders if one of the Spanish trio has a bad day at the office. Led by James Dabill - Beta, Team GB were the last nation to beat the Spanish at the TDN, but that victory came all the way back in 2003 when the legendary Dougie Lampkin was still in the driving seat. Now, a full fifteen years later, Dabill will go into battle flanked by Jack Price - Gas Gas and competition newcomer Toby Martyn - Montesa. We know Dabill and Price are rock-solid, but the event will be a huge test for Martyn who missed out on the Trial2 title last weekend in Italy by the narrowest of margins. Speaking of Italy, they will also be pushing for a podium finish. Matteo Grattarola - Honda, who pipped Martyn for the Trial2 title, will be aiming to carry his championship-winning momentum into the Czech Republic with Luca Petrella - TRRS and Gianluca Tournour - Gas Gas riding shotgun.
It is not a done deal though because Japan, led by the mighty Takahisa Fujinami - Repsol Honda, who is backed up by Kenichi Kuroyama - Yamaha and Tomoyuki Ogawa - Montesa, will be looking to at the very least defend their third place from last year. Hoping to take a giant stride forwards, Team France - winners of the inaugural TDN in 1984 and on a further four occasions - field Benoit Bincaz - Scorpa, Alexandre Ferrer - Sherco and Loris Gubian - Gas Gas, but they will have to defeat the Nordic trio of Ib Andersen - Gas Gas, Haakon Pedersen - Beta and Sondre Haga - TRRS to retain their top-five status.
Winners for the previous four years, Team GB controlled the FIM Women's Trial des Nations until a shock defeat by the Spanish ladies in 2017. With Neus Murcia - Beta joining Sandra Gomez - Gas Gas and Berta Abellan - Vertigo for 2018 they will be a tough trio to beat although Emma Bristow - Sherco, Donna Fox - Montesa and Jess Brown - Scorpa should push them every step of the way.
In the Men's International Trophy, champions Australia are back to defend their title with Kyle Middleton - Gas Gas, Chris Bayles - Gas Gas and Connor Hogan - Gas Gas, but they will have their work cut out fighting off the US threesome of Patrick Smage - Sherco, Samuel Fastle - Sherco and Daniel Blanc Gonnet - Gas Gas, plus others.