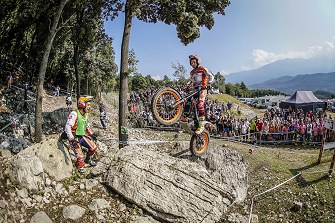 The opening round of the 2019 FIM Trial World Championship gets underway this weekend at Arco di Trento's Metzler Offroad Park in Italy. This will be the third year in a row that the dramatic, purpose-built venue in the foothills of the Alps has featured on the championship calendar since it made its debut in 2017 when the mixture of man-made and natural sections was an instant hit with riders and Trial fans alike. Of course, last year's FIM Trial World Championship concluded at the Metzler Offroad Park so it has been given the rare and perhaps even unheard-of honour of staging back-to-back TrialGP events.

In 2018 it was Spanish superstar Toni Bou (Repsol Honda) who, with his 12th consecutive TrialGP title already in the bag, signed off on top to seal a championship-winning run of six event victories. On that day his long-time rival Adam Raga (TRRS) was a close second but that wasn't enough to stop Jeroni Fajardo (Gas Gas) from pushing him back to third in the final rankings – the first time in 13 years that Raga, the champion in 2005 and 2006, has dropped out of the World top two. The 2018 Trial2 and Trial125 titles were decided in Italy with home hero Matteo Grattarola (Honda) and Britain's Billy Green (Beta) coming out on top and both classes will again be in action this coming weekend.

Italy's Trial heritage is long and illustrious and, while the country has surprisingly never produced a premier class World Champion, it's been an integral part of the sport at the highest level since 1972. Then it hosted a round of the European Trial Championship – the forerunner of the modern-day TrialGP series – with the late, great Martin Lampkin taking a narrow one-mark win at Selvino. Fast forward 47 years and the best riders on the planet will be gathering two-and-a-half hours north of that original venue this coming weekend to make another entry in the history books.

So which rider can claim the most TrialGP Italy wins? It should come as no surprise that Bou holds the record having eclipsed Dougie Lampkin's total of nine in 2017 and then extended it to 11 with his victory last year. Indeed, Bou has won in Italy almost every year since 2007 signalled the start of his incredible reign as the King of Trial. Only Raga has managed to interrupt this run with victory at Barzio in 2009 to add to his only other TrialGP Italy win on day one at Valbondione in 2005.

Bou will again start favourite this weekend from Fajardo and Raga but there's a dark horse in the running in the shape of 21-year-old Jaime Busto. The Spaniard, Bou's team-mate until 2018 when he moved to Gas Gas, announced this week that he's signed for Vertigo and will make his debut for the Spanish factory at TrialGP Italy. Whether the new bike will provide him with the impetus to improve on his fifth-placed finish at Arco di Trento last year – and over the course of the season improve on his World ranking of fourth – remains to be seen but it will certainly add extra spice to what is already certain to be a highly-seasoned feet-up feast!

With strong home support, Grattarola will be a hard man to beat in Trial2. The veteran destroyed his rivals here in 2018 with his total of just two marks lost a full 16 better than second-placed Gabriel Marcelli (Montesa) and 19 ahead of Toby Martyn (Beta) who he took the title from on a tie-break.
With the top four Trial125 riders from 2018 all electing to move up to Trial2 this season – and fifth-placed Hugo Dufrese (Gas Gas) injured – it's impossible to predict who will draw first blood in the smallest-capacity class in Italy. France's Arthur Rovery (Sherco) could very well be a rider to watch but last year, after failing to make an impact all season, Carloalberto Rabino (Beta) came from nowhere to score a sensational second on home turf and for sure he will be looking to go one better in 2019.