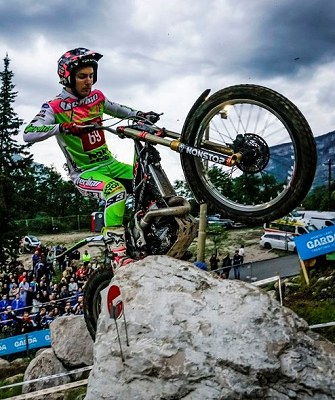 Heavy rain and incredibly slippery conditions resulted in the toughest timed Qualification session ever seen since the format was first introduced two years ago with every rider in the premier TrialGP class scoring maximum points at TrialGP Italy, round one of the 2019 FIM Trial World Championship.
The section, on a steep bank studded with carefully-placed rocks, would have been hard enough in the dry during the day but under floodlights and with torrential rain sweeping the Metzler Offroad Park at Arco di Trento it proved to be too challenging for even the best riders in the world. In particular the steep exit over a succession of polished logs proved to be a gripless nightmare that stopped every TrialGP rider who made it that far.
All rounds this year will feature two Qualification sessions. The name of the game is first and foremost to stay feet-up and then to complete the section in the fastest time possible. Riders are balloted for starting positions for Q1 and their results in this then determine the running order for Q2 with their best result from both sessions determining where they begin Sunday's main points-paying competition with the highest-placed finishers earning a valuable position at the back of the field.
After everyone in TrialGP struck-out in Q1, more rain just before the premier class riders began Q2 forced organisers to ease the section and cut out the fearsome log exit but even then, with mud being dragged onto the already treacherous rocks, it proved to be impossible.
As a result the starting order was determined by the initial ballot with France's Benoit Bincaz (Beta) last away tomorrow morning, just behind the Spanish pairing of Jaime Busto (Vertigo) and Miquel Gelabert (Sherco). Defending champion Toni Bou (Repsol Honda) will start fifth in the field of 15 with Jeroni Fajardo (Gas Gas) and Adam Raga (TRRS) – last year's second and third-ranked riders – leading the field away.
A five on his opening attempt meant home favourite and defending Trial2 World Champion Matteo Grattarola (Honda) was first away in Q2 but the experienced veteran made amends second time around over a less severe section than that faced by TrialGP competitors.
His clean ride in 0:41.89 was easily good enough to come out on top, over one-and-a-half seconds ahead of Spain's Francesc Moret (Montesa) and almost two-and-a-half seconds clear of third-placed Toby Martyn (Beta) from Britain. However, Martyn's Q1-winning run was even faster at 0:41.28 so he will have the advantage of starting last tomorrow just behind Grattarola and Spain's Gabriel Marcelli (Montesa).
In Trial125 it was rising Spanish star Pau Martinez (Vertigo) who got the job done in Q1 and despite dropping to seventh in Q2 as conditions deteriorated his initial time of 0:44.10 gave him victory from Austria's Fabio Schollar (Beta) and Spain's Pol Medinya (TRRS).
Images: P. Segales