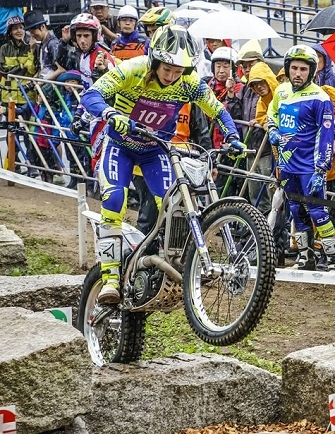 Emma Bristow got her defence of her Women's World Title off to a perfect start on day one in Japan.Spanish superstar Toni Bou (Repsol Honda) and Britain's brilliant Emma Bristow (Sherco) were the big winners on day one at an extremely tough and testing TrialGP Japan – round two of the FIM Trial World Championship – at the Twin Ring Motegi circuit. Bou, who's bidding for a record-breaking 13th consecutive TrialGP title this year, repeated his dominant performance at the opening round two weeks ago with a comfortable win from compatriot Adam Raga (TRRS) but yesterday's heavy rain ensured that it was a high-scoring event.
"I think my result today was incredible because the first lap I was riding very, very good," said Bou. "After the second lap I had a big lead over the rider in second although I had four fives in a row but I'm very happy to have won here in Japan."
Bristow, the defending TrialGP Women champion, kicked off her campaign to make it six straight titles with a clear-cut victory over Spain's Sandra Gomez (TRRS) and there were also wins for Italian veteran Matteo Grattarola (Honda) and French teenager Kieran Touly (Scorpa) in the Trial2 and Trial125 classes.
"It's definitely slippery today which made what should have been some simple sections quite difficult," said Bristow. "The sun's out now but hopefully it won't dry out too much. Overall it's been a really good Trial with some great sections and I'm happy to get the first day out of the way with a win. I'm feeling good on the bike and looking forward to tomorrow."
The sections were laid out on a wooded hillside studded with imposing granite boulders and with traction in short supply riders were forced to attack the steep, slippery climbs and deep ruts with more aggression than usual. A light shower at the start of lap two was the only rain during the event but the ground was very wet which resulted in the rocks and logs being coated in mud. With almost the entire TrialGP field picking up time penalties, Bou's precision and throttle control in the slippery conditions saw him take an early lead which he never relinquished with his first-lap total of just 19 giving him a clear 17-mark lead over Raga at the halfway stage. As the sections got tougher Bou incurred a further 26 marks on lap two but Raga couldn't take advantage and although he improved on his first-lap total he ended the day 23 marks down once time penalties had been added.
Neck-and-neck with James Dabill (Beta) for most of the day, fan favourite Takahisa Fujinami (Repsol Honda) claimed an incredibly popular podium finish in third a further four marks behind Raga and four marks ahead of the British rider with Jeroni Fajardo (Gas Gas) fifth another two marks back.
Fajardo produced the stand-out ride of the day on the incredibly hard fourth section. Despite being eased following the opening lap when its rocks, ruts and huge double step at the end claimed maximums from the full field, the Spaniard was still the only rider to make it through with an amazing clean ride on lap two.
Bristow, unbeaten in World Championship competition since the final round of 2017, got the defence of her title off to a flying start with a display of controlled aggression. Her opening lap total of 23 put her eight marks clear of Ingveig Hakonsen (TRRS) and she then upped her game on lap two, adding just 16 more to her total.
Gomez staged a fantastic recovery following an expensive first lap to beat the Norwegian on a most-cleans tie-break after both riders ended the day on 64 marks with Berta Abellan (Vertigo) and Neus Murcia (Gas Gas) rounding out the top five on 70 and 74.
Last season's battle for supremacy in Trial2 was fought out between Grattarola and Toby Martyn (Beta) and the pair resumed their fight with just a single mark separating them after lap one as the Italian claimed a slim advantage with a total of 17. Lap two was a different story, however, with the defending champion only picking up an additional 13 marks while the British rider dropped a further 23 and also incurred two time penalties.
"It is very important for me to win in Japan," said Grattarola. "I have ridden well and liked the conditions and the sections. I now look forward to tomorrow."
Spain's Gabriel Marcelli (Montesa) was third on 51, two marks ahead of fourth-placed Francesc Moret (Montesa), with Alexandre Ferrer (Sherco) fifth a further 10 marks adrift.
In the Trial125 class Touly maintained his unbeaten record but it was much closer than at the opening round as Carlo Alberto Rabino (Beta) ended the event just three marks behind on a total of 51. The Italian had actually led on 22 after lap one from Austria's Marco Mempoer (Beta) on 23 and Touly on 24 before the French rider broke free.
Mempoer slipped by to third on 55 ahead of Pau Martinez (Vertigo) on 60 and Arthur Rovery (Sherco) on 62.
"It has been a very, very hard day," said Touly. "I am disappointed with my riding but the result is good so I'm happy and hope to ride better tomorrow."
pdf Download TrialGP Results (344 KB)
pdf Downoad Trial2 Results (354 KB)
pdf Download Trial125 Results (343 KB)
pdf Download TrialGP Women Results (344 KB)
Images: P. Segales