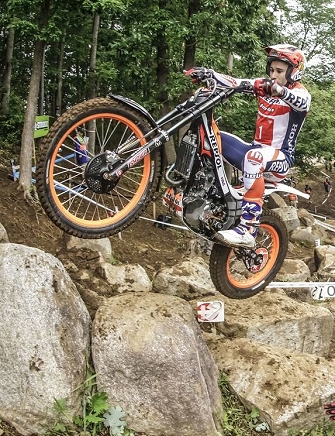 Toni Bou (Repsol Honda) produced a perfect performance on day two of TrialGP Japan – round two of the 2019 FIM Trial World Championship – at the Twin Ring Motegi circuit. The defending champion demonstrated exactly why he has won 12 consecutive TrialGP titles with a sensational faultless ride to end the day clean following two laps of 15 sections while in the TrialGP Women class Emma Bristow (Sherco) once again ran out as a clear winner. "It's amazing for me because to stay clean for two laps is incredible," said Bou. "It is only the second time in my whole career. I won yesterday and today was one of my best performances so I am very happy for all the team and I think it's been a very important weekend for the championship."
Organisers eased a number of the sections for the TrialGP class although they made section 13 harder which claimed maximum scores from everyone bar Bou on the opening lap. Bou, of course, cleaned it again on lap two and so did Raga but no-one else got through.
With conditions much drier today, grip over the iconic venue's rocks and logs and on the steep climbs was plentiful. However, you can't take anything away from Bou who won by 20 marks from Adam Raga (TRRS) and 31 from Takahisa Fujinami (Repsol Honda) who once again denied James Dabill (Beta) a place on the podium as yesterday's top-four finishing order was repeated. Dabill's total of 37 saw him push Jorge Casales (Vertigo), who ended Saturday in eighth, back into fifth by just a single mark.
Defending champion Bristow, a comfortable winner yesterday, turned up the heat even higher today and her final total of 17 – compared to second-placed Berta Abellan (Vertigo) who dropped 40 – only serves to underline her current dominance of the female Trial scene. "Today I was riding much better," said Bristow. "The sections were drier but it was still really easy to make a mistake so I tried to stay cool and I had a good first lap which set me up well. I feel like I'm riding really well and I'm looking forward to the next round."
Ingveig Hakonsen (TRRS), who pushed the five-time champion hard on Saturday's opening lap before losing out on a tie-break for second to Sandra Gomez (TRRS), was unable to sustain her challenge today and will be disappointed to slip to sixth. Instead it was Neus Murcia (Gas Gas) who improved on her fifth-placed finish on Saturday to take the final podium position on 45 after winning a most-cleans tie-break with Gomez. Maria Giro (Montesa) was fifth on 48.
After finishing a long way off the pace in fifth in Trial2 yesterday, Alexandre Ferrer (Sherco) bounced back and was in fantastic form to claim a clear win on 11 and inflict the first defeat of the season on defending champion Matteo Grattarola (Honda). "I'm very happy," said Ferrer. "I don't have a lot of training with my 250 and I want to up my level round by round – the championship is not finished."
Ferrer established a two-mark lead on the opening lap and then doubled his advantage second time around to take victory by four marks from Saturday's third-placed rider Gabriel Marcelli (Montesa) with Grattarola a further two marks behind. Yesterday's runner-up Toby Martyn (Beta) was fourth on 18 before a 10-mark gap to fifth-placed Francesc Moret (Montesa).
In Trial125 talented teenager Kieran Touly (Scorpa) maintained his win-streak with his third victory of the season but he needed to keep a cool head on his young shoulders as for much of the Trial he was playing catch-up to fellow French rider Arthur Rovery (Sherco). Rovery, the highest-placed rider competing from last year's championship, led on 10 after the opening lap with Touly and Pau Martinez (Vertigo) just one mark behind. Section 13 on lap two proved to be unlucky for Rovery and a maximum compared to his rival's single dab made sure of a two-mark victory for Touly who ended the day on 20.
"Today was very hard and very close so I'm very happy to win and get two victories this weekend," said Touly. "I'm looking forward to the Netherlands now where I'm hoping I can win but we shall see."
Martinez, who finished fourth yesterday, improved to third today on a total of 25 which gave him a seven-mark cushion over Alex Canales (Gas Gas) with Marco Mempoer (Beta) fifth on 34.
The action now moves to Zelhem for TrialGP Netherlands on June 22-23 where the TrialGP, Trial2 and Trial125 riders will be joined for the first time this season by the TrialE class for electric motorcycles.
pdf Download TrialGP Results (344 KB)
pdf Download Trial2 Results (354 KB)
pdf Download Trial125 Results (343 KB)
pdf Download TrialGP Women Results (344 KB)
Images: P. Segales