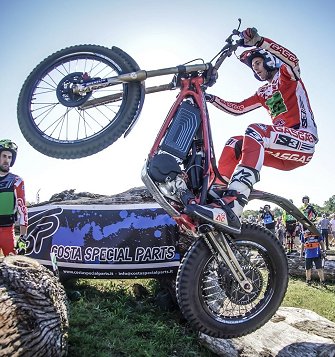 It was a successful first outing for Albert Cabestany as he returned to the world of Electric TrialsDefending Trial World Champion, Toni Bou (Repsol Honda) produced an almost faultless performance to claim his fourth win from four days of competition at TrialGP Netherlands – round three of the 2019 FIM Trial World Championship – in Zelhem as Albert Cabestany (Gas Gas) recorded a clean ride on his TrialE Cup debut.
Bou, who is attempting to take a record-breaking 13th consecutive TrialGP title this season, lost just one mark on observation but ended the day on a total of six once time penalties were taken into consideration following the championship's successful return to Holland for the first time in 40 years. This still gave him an eight-mark margin of victory over his compatriot and long-time rival Adam Raga (TRRS) who incurred three additional marks on time. "It has been difficult for me today because the sections were not so hard so there was lots of pressure," said Bou. "Just one little mistake could have been very costly so I'm very pleased with a perfect second lap. It is a new place in Holland and the fans have been fantastic today so I'm very happy."
On a blisteringly hot day, the dry and dusty man-made sections laid out over a mixture of concrete pipes, specially imported boulders and big logs didn't take many marks from the world's best riders. Instead, with long sections plotted over a relatively short course, time was the biggest factor but the event organisation was extremely professional and a big turn-out of Trial fans ensured a great atmosphere. In total Bou recorded 28 clean rides – section nine was cut out on the opening lap when a huge boulder worked loose – to underline his position as the greatest rider in the history of the sport.
Jeroni Fajardo (Gas Gas) made it an all-Spanish top three on 19 marks lost, eight ahead of fourth-placed Takahisa Fujinami (Repsol Honda) and nine in front of Jaime Busto (Vertigo).
In Trial2 Gabriel Marcelli (Montesa) has improved at every event so far this season and after running 3-2 in Japan he finally ended the day on top of the podium. The Spanish rider's total score of nine was less than half of that of second-placed Matteo Grattarola (Honda) but even that doesn't tell the full story as he lost just one on observation but picked up eight time penalties. "It is a great feeling," said Marcelli. "I am so happy with my riding today – my head is in the clouds! This is my first win this year and I would like to thank my team, my family and everyone who has supported me."
Defending champion and series leader, Grattarola suffered two maximums on the opening lap but fought back strongly and his second lap total of six – plus four time penalties – placed him comfortably ahead of Britain's Toby Martyn (Beta) who lost 24 on observation and two on time. Spain's Francesc Moret (Montesa) and Luca Petrella (Beta) from Italy rounded out the top five on 27 and 29 marks lost.
France's Kieran Touly (Scorpa) was dominating the Trial125 class after the opening three days of competition but despite topping yesterday's Qualification session he suffered his first defeat of the season at the hands of Marco Mempoer (Beta). A strong third on the opening day at TrialGP Japan, the Austrian has shown flashes of brilliance and today it all came together for him. His first lap of just one mark lost gave him a slim early advantage and he remained clean on his second lap to run out winner by two marks from Arthur Rovery (Sherco) from France with Spain's Alex Canales (Gas Gas) taking third on seven. "It's an incredible feeling," said Mempoer. "I will now try to do my best next weekend in Belgium and I am hoping for the best." Touly had to be content with fifth behind Italian Carlo Alberto Rabino (Gas Gas) following two expensive laps that left him on a total of 18.
Making his debut on an electric motorcycle in the first event of the two-round 2019 FIM TrialE Cup, Cabestany put in a faultless performance to win with a clean score. The Spaniard, who retired from competition in the premier TrialGP class at the end of 2018 following a long and illustrious career, was untouchable to win from Japan's Kenichi Kuroyama (Yamaha) who parted with three marks on his opening lap before dropping a single mark second time around for a total of four. "I'm really happy because an easy Trial is never an easy Trial," said Cabestany. "To finish with no marks is always hard – especially after just one week riding the Gas Gas. I felt very comfortable on it which is important." Italian Gianluca Tournour (Gas Gas) completed the podium in third on 11 before a big gap to fourth-placed Joan Cordon (Mecatecno) who dropped 46.
The best Trial riders on the planet will now converge at Comblain-au-Pont in Belgium next weekend for round four of the FIM Trial World Championship.
pdf Download TrialGP Results (344 KB)
pdf Download Trial2 Results (353 KB)
pdf Download Trial125 Results (345 KB)
pdf Download TrialE Cup Results (230 KB)
Images: P. Segales